Laura Brauer is on a roll. She won the 2019 airdrielife Fitness Challenge and one of her rewards was a makeover. Boy, did she win again!
From a whole new 'do and glasses to some trendy new clothes Laura was transformed for 2020.
At Envy Salon, since Laura's hair was very damaged with split ends, stylist Alicia first had Laura do some homework – receiving a strengthening and moisturizing conditioning treatment and using products at home to improve the health of her hair.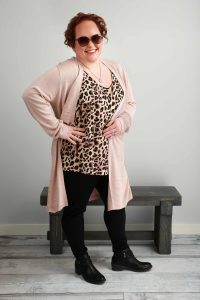 Once her hair was prepared to accept a colour application, Laura's colour was created from Envy's Calura colour line, a Canadian-made product which is PPD free, has no ammonia and contains certified organic oils.
ColorProof SuperRich carcinogenic-free shampoo and conditioner were used after the colour service.  These products are full of essential oils to lock in moisture, prevent colour fading and do not weigh down the hair.
Once Laura's hair was coloured to a red-brown tone that complemented her skin tone, Alicia shaped her hair to frame her face. Because her hair is on the finer and more delicate spectrum, releasing some of the weight meant Laura's hair immediately looked fuller. Careful layering was created to ensure her hair was not left limp, but created volume. Then she was shown how to enhance her curl and place it to, once again, create fullness.  Alicia then helped Laura with a light and natural makeup application for the photo shoot.
Styling products were essential to support the look.  Living Proof Full Thickening Cream, Volume Blast and Flex Hairspray were used. These products do not leave the hair feeling coated with product since they are created to work from the inside out supporting the hair from within.
Laura was thrilled with the results. "Alicia was absolutely amazing. Thank you, Alicia, I still receive many compliments on my hair!"
Hilary at Airdrie Eyecare Centre was Laura's next style guide and helped our winner chose new frames by Marc Jacobs. This frame looked amazing with her skin tone and new hair colour.  "We found a pair of glasses in just five minutes! She had me try several pairs that I would have never probably look at and the pair that I ended up picking up just suit me so well! I LOVE these glasses; I also receive a lot of compliments on these glasses," Laura says.
For the photo shoot Hilary also selected a pair of Kate Spades for their versatility and a pair of Tom Fords for how classy they looked.
Wardrobe was next. "Allison at ZIVA & EM Boutique is so talented! She took one look at me and knew what size I was. Allison had several outfits for me to try and they all fit the first time. This is huge as I have always disliked clothing shopping as nothing ever fit me properly! Her store is absolutely amazing and I absolutely love the three outfits we decided on in the end."
For the photo shoot, Allison chose pieces that are on trend and very flattering for Laura.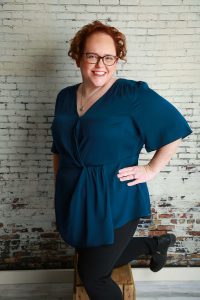 "Animal print is huge once again for spring, and we couldn't be happier! The leopard prints allows you to mix and match colours and textures, and help pull it all together.
"Florals never go out of style. This top's floral pattern complements the flowy nature of the top and hemline perfectly. Florals are super versatile in that the various colours help to draw attention to your natural features by pulling the colours, while adding an element of interest to your look."
We love this great bold coloured V-neck top! Sometimes a great hue can make a statement all on its own and the deep V helps to elongate your body, making you look slimmer and taller.