A uniquely Canadian children's book hit the shelves in September. Its creators are two Airdrie moms who partnered with The Wardens, a Banff-based music band comprised of three veteran park wardens. We asked these two creative women to tell us the story behind Rocky Mountain Rangers: Guardians of the Wild, the first in a series of rhyming tales adapted from The Wardens' songs. 
airdrielife catches up with Ayesha Clough, publisher, Red Barn Books and Lia Golemba, illustrator, Pink Spot Studios, to find out how it all began.  
How did the book come about?
Ayesha Clough: It all started at the library. I checked out a bunch of books about horsemanship, because we recently moved to an acreage. When I asked about horsey stories for my son, there was almost nothing current or Canadian, particularly for boys. 
My son walks around in a cowboy hat and boots 24/7. He's convinced he's a cowboy. It made me sad that there was nothing on the market for kids like him – especially since we live in Alberta, Canada's western heartland. 
Lia Golemba: I was on board the minute Ayesha told me about it. I have two boys who love to read and play outdoors. It can be hard to find books that capture their imagination. 
I think it's important to tell our regional stories, so our kids can see Canadian characters and landscapes reflected in their books.  
Listening to The Wardens' music, I was inspired to work in an illustration style that captured the ruggedness of their sound and our land. 
What was the best part?
AC: Working with Lia and The Wardens, for sure. But also the incredible support from folks across the country – we had $21,000 in pre-orders from 250 backers during our Kickstarter campaign, and that's even before the book was printed!  
Of those, 23 people donated 230 books to hospitals across the country. We're sending Baby Archie a 'Royal Edition' gift book. It'll have the donors' names in a special inscription by Airdrie calligrapher BerylAnne Hodgins from Where Memories are Made. 
LG: We learned as much as I hope the kids will about our parks. The Wardens provided beautiful reference photos to help the illustrations stay true to Rocky Mountain landscapes, flora and fauna. It's a heritage project that I hope will stand the test of time.  
An added bonus was the publicity around our campaign. We were able to share our story with Global TV and CBC Radio-Canada, not to mention local media. My kids joke that mommy is famous now 
What was the biggest challenge?
AC: The cost! I've learned that it takes about $20,000 to produce and print a quality book in Canada. Publishing is a complex industry, and there's not much money to be made. It's definitely something you do for love.  
LG: Finding the time between work, teaching and family for this passion project. It was a big undertaking to hand-carve each block, then print, scan and digitally colour the images, before finally laying out the book. We were committed to quality and craftsmanship for this piece of Canadiana. 
Would you do it again?
AC: We have plans for three more Rangers books, and illustrated profiles of legendary Albertans. I need to raise $10-20,000 per book, so if you know anyone who wants to champion Canadian kids' literature, I'd love to hear from you! 
LG: Absolutely! We're hoping to start Wildlife Man in October. It's based on a hilarious Wardens' song, about a conservation officer who goes "running through the woods, hockey stick in hand, chasing those elk and bear out of Banff town." Exactly the kind of book my kids would get a kick out of.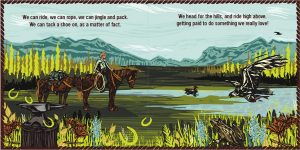 About The Wardens
The Wardens are storytelling cowboys. Three singer-songwriters, their songs arise from the land they've protected for 60-plus years as wardens in Jasper, Banff and Glacier national parks. Quintessentially Canadian, they are the sound of the Rocky Mountains.