Chicken wings, nachos, sliders, poutine, dry ribs, spiced French fries.
Sounds appetizing, right? Whether an afternoon snack, a late-night stomach-growling pub crawl, or a search for a little grease or fried goodies to cut through a wine-tasting evening, there are plenty of appetizers out there to fit the digestive bill.
That quick bite from the starters menu can be enough to satisfy your hunger or promote some good, old-fashioned fun with friends who are enamoured with the idea of sharing a small meal.
Nibbles come in all shapes and sizes, with cheese-laden dishes, tantalizing beef sliders, the ever-popular chicken wings and snack-staple nachos. A quick search and you even may find a few new fringe favourites to snack and share. So, let's try a few starter bites and see what's appetizing in Airdrie.
Main Street Beer & BBQ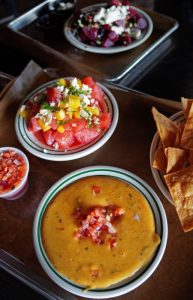 With frothy beverages and flame-broiled meat in their moniker, Main Street Beer & BBQ should be able to satisfy any small-meal craving and presents a few tasty surprises.
With plenty of trays (entrees), sides and draughts on the menu, this open-air pub fits the bill for a quick snack. A warm afternoon with fresh air flowing through from Main Street seems the perfect time to try a watermelon salad.
This red-fruit, refreshing dish is topped with crumbled goat cheese, sprigs of mint and dainty mango cubes. This sweet salad intermingles nicely with a Mexican-themed order of chips and queso. A plate that defines cheesy, this richly melted bowl of goodness and spice will disperse any curd craving.
A basket of salt-and-pepper smoked rib ends, offered in several different flavours, produces a crispy bite with just enough fat for a savoury finish. That and 36 different types of draught should make for a nice pit stop.
Canadian Brewhouse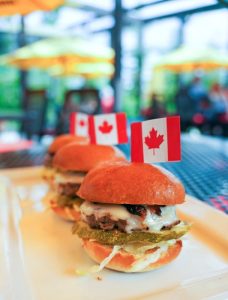 With patio season in full swing at the time of this visit, it's time to slide into the Canadian Brewhouse for a small bite, and yes, even a few brews.
Welcoming patrons with bright-yellow umbrellas that echo the early evening sunshine, some upbeat music and a cool summer breeze, the nation namesake restaurant produces plenty of snacks for a quick feast.
The appetizer section of their large menu lists several favourite morsels including wings, potato wedges, onion rings, spinach dip and a few odd fellows with beef 'n' cheddar yorkies and Ukrainian perogies.
The three bomb beef sliders feature small beef patties nestled between a large, crunchy crinkle-cut sour pickle, iceberg lettuce, melted Swiss cheese and a small slab of maple pepper bacon.
The delicately soft brioche buns keep these mini handhelds together and some garlic mayo produces a creamy element.
Satisfying enough for a meal or if you're in a sharing mood, have some family and friends help slide into this plate.
Original Joe's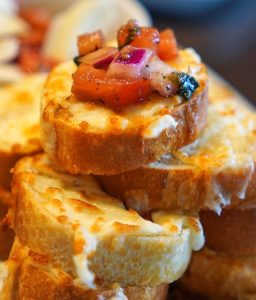 When it comes to a mid-afternoon or even late-evening snack, some days you just have to wing it.
Let's get straight to the bone; there are plenty of choices when you feel like a bit of clucking. Original Joe's being, well, original, breaks the chicken wing mould by offering a special Tuesday deal of half-priced morsels.
Feeling plucky, we opt for a pound of wings offered in several flavours, among those mango habanera or even dill pickle.
These are deep fried to a crisp on the outside and meaty on the inside. What else can you say about this popular snack without flapping away.
For a bit of variety their snack and share section also offers bruschetta. Medallion-shaped cut bread is topped with mozzarella cheese accompanied by a bowl of chopped red onions, tomatoes and shaved Parmesan cheese all swimming in an herb dressing.
Montana's BBQ & Bar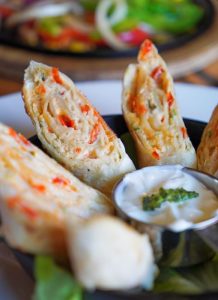 Known for their ribs, steak, burgers and rustic surroundings, Montana's BBQ & Bar has plenty of meal openers from spinach dip, spiced-up shrimp, nachos, deep-fried pickles and even a pot roast soup. Their signature starter is the oven-baked antojitos.
A play on Mexican cuisine this dish rates close to a 10 on the cheese-lover's scale.
Looking more like a pre-supper snack that just came out of Grama's kitchen, a soft, melted cheese is united with spicy, small-diced jalapeno, red pepper and onions all rolled in a tortilla. The offering is then baked to melted goodness and served in a mini cast iron skillet atop a lettuce leaf. A vintage quarter-cup of pesto sour cream is placed on the side for dipping.
Just a touch of spice blends with the cheesy, smooth texture that delights the palate leaving a warm, welcoming heat on the tongue.
Old Town Pizza House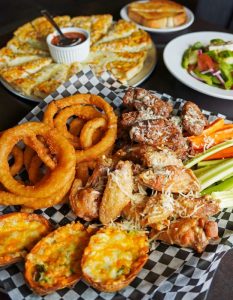 The Platters, crooning romantic tunes in the late '50s, would know a Great Pretender if they ever saw one.
When it comes to a mixed plate of several different snack foods, there's no pretending when it comes to Old Town Pizza House's namesake starter platter. It's a hit.
When you really have to go to taste bud town, the Old Town Platter has tuned up all your favourites.
The greatest hits include plump chicken wings and juicy dry ribs, available in 17 different fun flavours, in this case a garlic and parmesan blend with fresh cheese grated on top. Old Town balances the fine line between crispy and chewy on these morsels.
Thick onion rings and potato skins topped with onions, bacon and melted cheese are also included with celery and carrot sticks and a ranch dip.
If this doesn't have you singing the praises of platters, this pizza house also has one of the best, cheesiest pizza breads available in the city.
Tequila & Tacos Mexican Taqueria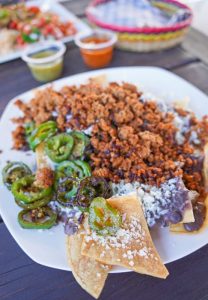 Nachos could be the ultimate, universal late-night offering found on nearly every menu. Whether piled on a platter at home in front of the Saturday night movie, a sporting event or drink-serving establishment, chips and cheese are a given.
While similar in concept, the Mexican-themed dish puts on a few spicy twists to this North American appetizer staple.
Tequila & Tacos adds a few traditional staples to their Chori-nachos for a unique, meaty plate.
Thick, traditional tortilla chips are smothered with refried beans, melted cheese and plenty of homemade chorizo along with large, grilled slices of jalapeño peppers. Living up to the Mexican heritage, this dish emits a small waft of spice even before the first bite.
Sturdy, crunchy chips easily hold a good mound of chorizo ready to satisfy any beef lover and the refried beans unite the bites. Add a summer breeze to the patio and you could be on a Mexican holiday.
Secret Galley, Food and Wine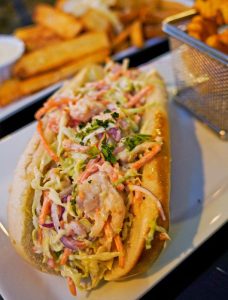 Tucked away in the Best Western Inn, the Secret Galley, Food and Wine restaurant gives off a dim-lit, romantic vibration perfect for that first date or starry-eyed dining.
If your intention is to impress with a few unique appetizers this could be your menu, offering everything from beef short ribs to tempura shrimp to scallop lentils and chili lime chicken.
While chicken wings, onion rings and spicy fries venture toward the recognized appetizers, Secret Galley also cooks up a rare lobster roll and truffle parmesan fries.
Sandwiched between a long brioche, the roll gives a hint of mild flavours with chunks of dressed, tender lobster combined with the crunchy textures of a shredded carrot, cabbage and red onion coleslaw.
The slight sweetness is offset by a small basket of crinkle lattice fries lightly spiced and served with a sour cream dip.
Romantic? Maybe. Filling? Definitely.
Sorso Lounge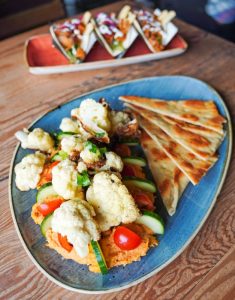 For a wine bar with plenty of craft beer on tap, Sorso Lounge may have one of the most diverse shareable menus on the appetizer scene.
This layback lounge promotes such delights as "Dad's" spicy popcorn, confit duck wings, bacon-wrapped fried pickles, pretzel bites with beer dip, pork belly skewers and poutine.
As a staple in many households, mine included, hummus evokes a slightly Mediterranean flare and a versatile dish built around chickpeas, garlic and other goodies.
Sorso, always searching for something beyond the ordinary for the palate, has combined several vegetables and techniques for a unique twist on this fibre-laden dish.
A good layer of roasted red pepper hummus is covered with huge chunks of seared cauliflower, fresh-sliced cucumbers and cherry tomato. Crispy roasted chickpeas and pistachio are added for a bit of crunch. A mandatory grilled garlic naan bread makes for a filling finish to this vegetarian snack.