"The biggest thing is to have confidence in what you do, and to be proud of what you do"
He might be just 21, but Airdrie's Brandon Lorenzo is living his dream and becoming a successful country artist.
"The biggest thing is to have confidence in what you do, and to be proud of what you do."
With boyish good looks and a smile as broad as a prairie sky, Lorenzo's vocals are deep and rich, reminiscent of country great George Strait. His performances, with just his guitar or with a band, are lively, soulful and crowd pleasing.
Lorenzo moved to Airdrie from Calgary when he was 14, and credits his family, self-determination, and his agent for his growing success.
He doesn't come from a musical family, but he remembers singing songs he'd learned in church when he was around four, something that caught the attention of his grandmother.
"She said to my parents, 'Maybe it's time you look into doing something with his music.'"
They put him into the Calgary Boys' Choir, and later the United Conservatory of Music, one of Calgary's leading music schools, but when he was 12, he felt he needed something more.
"I taught myself guitar, and was very much into R&B music," he explains, "but it wasn't until I moved to Airdrie that I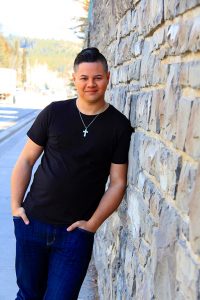 began to listen to country – it suited my voice."
Lorenzo's agent, Cheryl Katavállo, of the Katavállo Entertainment Group, which also manages Mark Lorenz (airdrielife fall 2018), sees Lorenzo as the real deal.
"He's really eager, but he's very willing to listen. He was building his brand before we took him on, but now we're making sure he's taking all the steps towards being a successful artist."
One of those steps has been Lorenzo's education. He recently graduated from Calgary's St. Mary's University with a bachelor of arts in history and is returning this fall to earn a bachelor of education.
"I've always wanted to be a teacher, but I've always dreamed of being an artist," he says, adding, "It's something I have to do."
Lorenzo regularly posts covers and his own songs on social media, he's released an EP, is a regular performer at the Ranchman's and Cowboy's Taphouse, hosts an open mike at Main Street Beer & BBQ, has been on stage at the Calgary Stampede Talent Search, and won the CKFM 96.5 Star Search for his song Everly, which earned him recording time at Calgary's Evergreen Sound.
Everly, co-written with another country artist, Ryan Lindsay, is a memorable, toe-tapping love song, complete with a catchy hook (Everly, you make me believe), and some great guitar work.
Lorenzo writes about life, but he also pens songs he hopes everyone can connect with.
"It's about writing songs that not just you are going to relate to as a person, but that somebody else can hear … and be like, 'been there!'"
The next two years are busy for Lorenzo. He'll be getting his. B.Ed. while working with his agent to launch into a full-time music career once he graduates.
"It's always been a dream; I just never thought it would become a reality."
Featured Photo Credit: iStock