With each makeover I co-ordinate, I don't usually have an agenda for what direction it will take other than to have the winner feel absolutely gorgeous and gift her with an experience she won't soon forget!
For me, it's always a delight to learn about our winner, her life and lifestyle, how she would like to feel every day – and help her achieve that (along with our outstanding team's contributions too)!
Before I share the details of our makeover winner's transformation with you, allow me to introduce her.
Tamara Kashuba is a mom, entrepreneur, career woman, wife and truly an example of generosity, positivity and resilience – an inspiration.
Tamara and her husband Jordan welcomed their first-born, beautiful baby boy into this world on Jan. 3, 2016. When their son was 20 months old, he was diagnosed with kidney cancer. It was devastating. Scary. Frustrating.
The past two years have been consumed with hospitals, medical tests, chemo treatments, surgery and a tremendous amount of stress. The good news: their son is now cancer free and the family's life is returning to a "new normal." Tamara gratefully says that this isn't a new chapter, but an entirely new book. And they're enjoying the blessings.
Tamara's on maternity leave with her second son and planning to return to work shortly. And if a young, bustling family and career aren't enough … she and Jordan have started a company called Blessing Blossoms, a floral design company with heart.  This business has been inspired by their own journey … and in their darkest moments of fear, it was the thoughtful little things people did that provided them with glimpses of faith and hope. A moment to stop. A moment to appreciate the beauty and miracles in the world. Exactly what they hope to deliver through their beautiful floral arrangements.
During our consultation, Tamara shared that she just wants to feel good again. She enjoys wearing colour, and has very few neutral-coloured pieces. She likes prints and really loves a feminine vibe to her style.
As we made our way through the incredible selection at The Store Upstairs, Tamara pulled out a cotton canvas, chambray-striped skirt and asked what I thought. I LOVED it!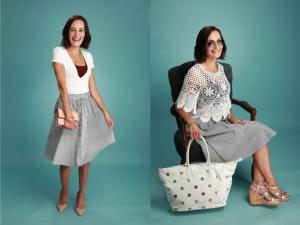 After working in thousands of women's closets, I often see that they wear most items only one or two ways. This playful, versatile skirt, and Tamara's love for it, inspired me to create a number of seasonally transitional outfits with it. I hope you like them as much as Tamara enjoyed wearing them! And are inspired to get creative in your own closet!
It always takes a village of talent to pull off a stylish and successful makeover….
Tamara's sassy new haircut, colour and style were created by the talented Wendy Bates-Wiebe at The Hair Lounge.
Ashley Williams from Byoode Bar reshaped Tamara's brows, and did a lash and brow tint, because no face is focused, framed and finished without great brows.
Tamara's gorgeous, classy neutral makeup was done by Sarika Mehta Makeup Artist.
Gorgeous, stylish new eyeglass frames and sunglasses were selected and generously provided by Airdrie Eyecare Centre.
All of the clothing and accessories, plus a $500 gift card, were provided by The Store Upstairs. All the shoes featured are Tamara's own (except the metallic slip-ons).
Outfit selection and styling by The Stylish Insider.
Leslie Davies of The Stylish Insider helps clients use items they ALREADY own to create their own super-functional, affordable and versatile wardrobes
Before Photo of Tamara: