Rugby in Airdrie hasn't had an easy road, but that may play out in its favour in the long run; adversity grows deep roots, right? 
Since its inception in 2014, the Airdrie Highlanders Youth Athletic Association has had fits and starts of momentum among adults, with a bent on growing rugby's foundation among youth, namely with the U17 girls team.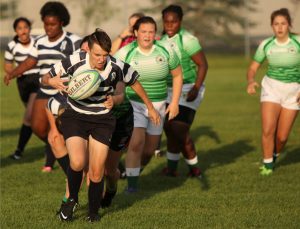 Sierrah Barthel is a product of the program entering its third season in 2019. 
"I was actually really scared to start at first, and then I joined the high school team, and I've loved it ever since," says the prop-position forward. "I can't imagine my life without rugby now." 
Now 18 and graduated from W.H. Croxford High School, last summer was Barthel's first in rugby. She's happy she found the sport. 
Barthel shared her story after the girls' last game of the 2018 season in late August, before she began playing recreational rugby at Mount Royal University.  
They had just lost in a blow-out to the Calgary Canadian Irish Athletic Club's U17 girls team at the Irish fields in Calgary. Spirits were unwavering. The two teams shared their mutual respect, shook hands and mingled together for one big, intersquad group photo under the uprights in the evening light.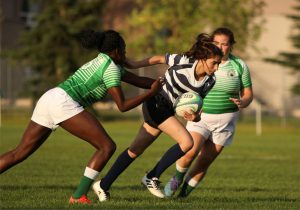 "There's no hating the other team," said Barthel. "We all love each other, and we're all here for the sport." 
Barthel played hockey, basketball and volleyball before, but enjoyed the contact sport even more. 
After a brief, four-game season and summer of twice-a-week practices, she already acknowledged the Highlanders as her "second family." 
"What I like about rugby is we need everyone," she said. "We need the fast people, the strong people, just everything. Short, tall, it doesn't really matter." 
Head coach Jill Young is at the helm of the Highlanders' U17 girls rugby team, which doubled from about eight to 16 players from year one to two. 
"Mens, womens, youth, juniors, kids, I just want rugby, I want rugby in Airdrie," says Young, 30. She shares a vision of seeing Airdrie's high schools hosting rugby games.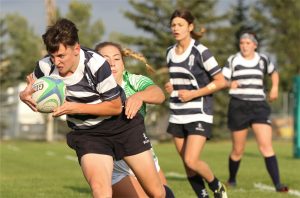 "If I ever want to develop my family, I want my kids to be able to play rugby in Airdrie," says Young. 
Kelsey Dupuis, Highlanders assistant coach (alongside Mitchell Dorgan), is just as optimistic about his players, many which, like Barthel, just picked up the sport. 
"They seem to be having a blast," says Dupuis. "I'm very proud of these girls." 
He's unwavering as Young, cultivating the athletes, watching them grow and recruit their friends. 
"Any time you start a new program, especially in a non-major centre, you've got to be patient," says Dupuis, noting many players will be returning for 2019. "They had that much fun, and that's how you establish a base in any sport." 
Dupuis and Young encourage girls to check out the Highlanders, noting equipment (cleats and a mouth guard) can cost about $60 to start, and team fees are less than $200. 
Practices at George McDougall High School's field are on Tuesdays and Thursdays from 5:30-6:30 p.m., with touch rugby immediately after, during the summer months.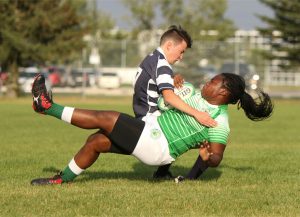 For more information, visit airdriehighlanders.com or email airdrierugby@gmail.com