Before she even took her first breath, doctors gave Darby Beeson a slim chance of ever walking normally.
Now, the gregarious, optimistic Airdrie teen athlete has dreams of taking to the ice as an Olympic speed skater.
With the omnipresent odds-makers already betting against her, nail-biting expecting mom, Monique, scanned an ultrasound as doctors speculated the unborn Darby may have to contend with a life-altering birth defect.
"When they were doing an ultrasound, they thought I had spina bifida. Until I was born, they didn't actually know it was club foot," says the 16-year old Darby. "My mom was actually relieved because spina bifida would have been the worst case."
Embracing this silver lining, the congenital foot defect couldn't contain the hyperactive young Darby. Constantly trying to keep up with other children her age, she never stood still despite enduring several surgeries, relapses and numerous braces and casts.
"I can't even count how many casts I've been in. When I was around nine, my foot relapsed, so I had to go into another surgery where they had to switch the tendon onto the other side of the foot. So, it was a very different childhood than normal."
A unique upbringing differing from her young companions, Darby's days were filled with exercises, stretching, and a love for any kind of athletics despite tremendous physical obstacles.
Between constant doctor appointments and a substantial recovery regimen, sporting activities jumped to the forefront for the determined youngster.
Like a moth to the flame, she was drawn to gymnastics, tumbling, lacrosse, dancing, swimming and even roller derby.
"Any sport, you name it. My mom always kept me active – I was very hyper," says Darby. "I just wanted to run and do everything everyone else could. Being active was the best thing I could have done for myself."
Attending a World Cup speed skating event at the Olympic Oval in Calgary, Darby found her sports-field calling.
"I saw speed skating and I was like, 'that is so cool, I want to do that!'"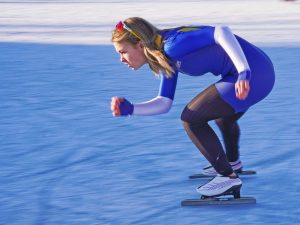 Now a member of the Alberta Provincial Speed Skating Team, and most recently the Canadian Junior National squad, the fleet-footed skater spends six days a week training and carving ice at the University of Calgary oval. The benefits of being surrounded by national-level coaches and Olympic athletes at a high-level professional training centre is proving pure motivation for the enthusiastic athlete.
"It's crazy! When I warm up, I skate on the ice with Olympians sometimes. It gives me a lot of inspiration, because I look up to Olympic speed skaters, and talk to them, interact with them, take information from them. I find it an amazing environment to train with those athletes."
Skating her way to the national level, Darby's courageous determination paid off with a first-place gold in the 1,500 distance and silver in 3,000 and silver overall at the 2023 Canadian Junior Long Track Championships in Quebec this past January. This opened the door to compete at the World Speed Skating Championships this February in Inzell, Germany, from February 10-12, where Darby achieved personal bests in every race and finished 13th overall.
Beyond that, the perky youngster has lofty goals on the speed skating oval.
"Obviously that overall goal is the Olympics, for everyone that's the highest level," says Darby, who, despite having two more years at the junior level, is looking far down that icy track.
"I'm really involved in the sport and I truly love it. The thing with long track, you can skate long track for as long as you want. People in the Olympics, still skating long track, some are 30-40 years old. It's such a sport that no matter how old you are, you can be involved with it no matter what."
Living under the cloud of an unpredictable abnormality, the spirited speedster has been advised by doctors to absorb life's bright spots and shoot for her lofty goals while she's able.
"There's a 30 per cent chance that I won't be able to walk when I'm older and it will relapse. That's why he encourages me to do all the things that I want early in my life. Later on, I might have some difficulties, there's still that possibility," says the bubbly optimist.
"I just try to put all my work and effort into now, so that I don't regret it when I'm later in life."