"I went out on the stage and sang my heart out like no one was watching, and by the end of that song, I had never felt more in place"
When we put the call out to teachers/instructors to tell us about graduating students who were pursuing the arts, we were overwhelmed by the amount of talent. We asked them about their plans and their aha moment – when they knew their passion could be their future. Meet 10 young Airdrians who are our 2018 Ones to Watch in the arts.  Get more online: read about their role models at airdriellife.com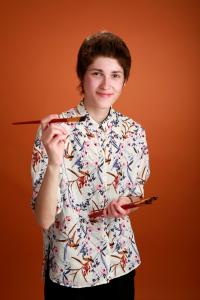 Lucas Andersen, 18
George McDougall High School 2018
Next: Alberta College of Art and Design (ACAD)
Art form: Visual (digital, painting, charcoal, drawing, etc.)
Aha moment: When others would see me doodling or drawing and say how impressive it was. I never really thought much of my skills because there's a lot of other artists that are far superior than I am. But just because I'm not a famous artist doesn't mean I'm not good enough to pursue art as something more than just silly doodles.
The future:  My dream for the future would be waking up every morning knowing that I'm doing something that I'm passionate about and love.
Kierra A. E. Bayda, 18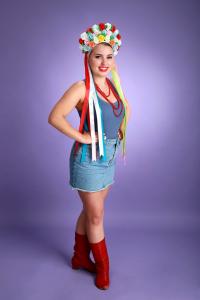 Bert Church High School 2018
Next: Gap year, then London, UK to study
Art form: Musical theatre/dancing/vocals/visuals
Aha moment: In December 2017, I was cast as one of the lead roles in the school musical. It was only when I knew that I had to sing a song solo that I knew it was finally time to face my fear of singing in front of not only my friends and family, but an entire audience. I went out on the stage and sang my heart out like no one was watching, and by the end of that song, I had never felt more in place, the adrenaline was so exhilarating!
The future: My dream would be to be an artist in either the visuals (fashion) or singing and in doing this, inspire and connect with people around the world.
Alexa Clifton, 20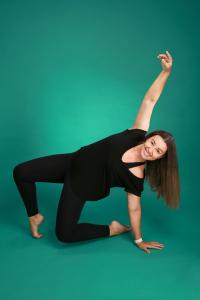 John G Diefenbaker High School 2015
Next: University of Calgary, Dance major
Art form: Dance
Aha moment: It actually came a lot later than I expected. Growing up I was really into sports. It wasn't until I was 13 that I decided I should try a dance class! A few classes in, despite my lack of technique and co-ordination, I had found this new feeling I couldn't quite explain. It fueled my desire to learn and really push myself. After high school I decided to take a year off and teach at a studio here in Airdrie. One of my students was having difficulty understanding one of the moves while the other dancers had picked up on it quite fast. She spent weeks practicing at home and asking for my help to improve. When she accomplished that move, a feeling of pure excitement, happiness and joy came from her and actually the whole class. The arts have a way of bringing people of all ages together and building a strong connection and bond with those around them. To be able to not only witness, but actually take part, in these connections is a truly amazing feeling that I get to be a part of every day.
The future: My dream is to open non-profit dance organizations in a Third World country. I would love to travel while creating programs that fit each country and eventually open multiple non-profit studios to provide these opportunities.
Keigan Hassett, 18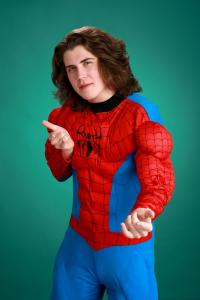 St. Martin de Porres High School 2018
Next: Gap year; then Vancouver Film School, Acting
Art form:  Acting! Theatre and soon to be film (hopefully)
Aha moment: When I was on stage doing a "fashion show." I believe it was the dress rehearsal but we had a little audience. I was walking onto stage and completely fell, just absolutely destroyed myself, in a hula skirt and coconut bra, somehow kept it in check enough to strike a pose from the ground and had everyone in stitches including my fellow actors. I think I realized then that "hey, everyone's laughing at me already, maybe I could get paid for this!"
Hope Jacyk, 18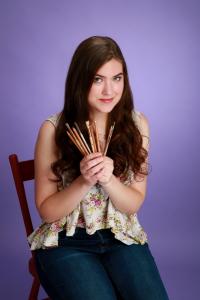 St. Martin de Porres High School 2018
Next: University of Victoria
Art form: Visual arts. I mostly do painting and drawing and some mixed media things
Aha moment: When I was in grade 10 my best friend bought me the book Color Me Creative, by Kristina Webb, an artist I really liked at the time. I read the whole book that night and it let me see that maybe art was a possible career choice. I had always wanted to be an artist but had brushed it off after most people told me that it wasn't really possible to make a living as an artist. Reading this book made me look for myself to see that a lot of people are able to make a career out of art; once I realized that, I knew that art is what I was going to go into. It is all I really want to do because it is what makes me excited about life.
The future: I would like to do some illustration and eventually have my own business teaching art classes and selling my own art.
Jessie Lutness, 18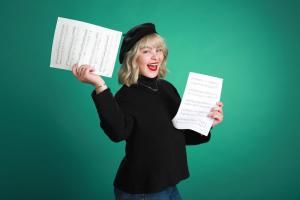 Bert Church High School 2018
Next: York University in Toronto, Performing Arts
Art form: I am most active in performance art, such as acting, theatre, and music, but I try to immerse myself in every aspect of art, from photography, to writing, to painting. Throughout the past four years, I have been very grateful to have been a part of many Bert Church theatre productions, both inside and outside of school.
Aha moment: I don't know if I can exactly pinpoint the time when I decided I wanted to pursue art as a career. I've always loved it and art has always been a part of my life in one way or another. My mom, a musician, and my dad, a woodworker, both encouraged me to be creative as I was growing up. When I was 13, I was in my first production. I fell into it very naturally and it seemed like an activity that fit my outgoing and curious personality. I think from that point on, I knew I wanted to continue with theatre to see where it would lead me!
The future:  I hope to be as involved in art as I can be, and possibly pursuing theatre as a career.
Paige McCallum, 17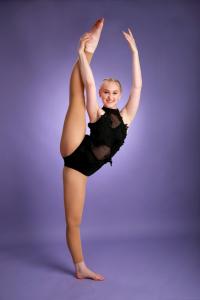 George McDougall High School 2018
Next: University of Calgary, Dance major
Art form: Dance
Aha Moment:  I never had an "aha moment" when deciding to pursue dance as a career; it was something I knew I had to do since my first dance class at the age of three. Now what path of dance I would go down as a performer, teacher or choreographer was still uncertain; it still is. I know there's no doubt I'll teach, truly love it, but if I ever get the chance to perform again I'd take up that offer in a heartbeat, even choreographing for others, and even Elements (Dance Co.) I would be very open to if given the chance. I know for a fact dancing will always be in my future no matter what path I choose, or how I get there.
The future: My dream is to achieve what Miss Stephanie and Miss Alexa have achieved. Miss Stephanie is a successful studio owner; she's so busy yet she's constantly a hands-on teacher. She's taught me what it feels like to be a part of a team. When you come to class you're treated as an equal with no favouritism; that's something I truly appreciate. Miss Alexa's dedication, poise and the kindness she spreads inspires me to become a better person and strive for more. If my future artistic career turns out anything like Miss Steph's or Miss Alexa's, I would be beyond grateful; they are the reason I am the person I am today.
Avery Olson, 17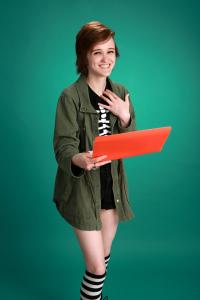 W.H. Croxford High School 2018
Next: University of Lethbridge; Psychology major, Theatre minor
Art form: theatre, in all its different types –
acting and writing especially
Aha moment: I have trouble remembering an exact moment of "I want to do this for the rest of my life," but I definitely haven't known forever. I think it was probably between two moments – the feeling of my first (real) concert in 2014, or my first night volunteering at AIRScares in 2015 (which I still do yearly). The former made me realize how special it is to be a part of something live, where everyone is enjoying themselves. The latter made me realize that it's even better to be the one GIVING people that experience. Writing, on the other hand, I've done for as long as I can remember; I don't think there was ever a question of me NOT doing it. I took part in the Artstrek theatre camp this and last summer.
The future: As long as I can do what I love, even if it's casually, I'm happy.
Dragos Paunescu, 18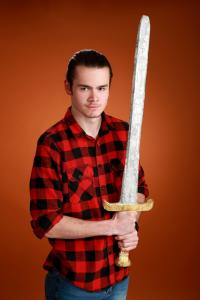 St. Martin de Porres High School 2018
Next: Vancouver Film School, Acting
Art form: Actor, screen and theatre
Aha moment: At 16 years of age I realized that I should pursue my dreams of being an actor. Despite all the what ifs and chances of making it, I realized that if you work hard anything is possible
The future: to be a working actor and inspire people through my art form as well as encourage people to follow their passions in life.
Christopher Wipf, 17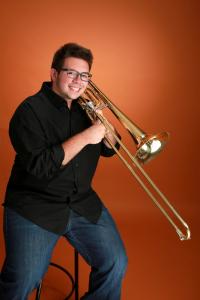 George McDougall High School 2018
Next: University of Lethbridge, Social Studies major, Economics education with minor in Music Education
Art form: music, mainly the trombone
Aha moment: When I first went to Alberta Honour band, I realized that with some practice I could take music somewhere.
The future: I really want to teach band (like role model and teacher Jordan Harris).