"Get involved in community engagement opportunities to shape your city in ways that work for you"
Do you always know which week you're supposed to put out organics?
Did you know the City is moving forward with a pilot project to allow backyard bees?
Have you heard an ABBA tribute band is playing at Bert Church Live Theatre in April?
If you answered no to any of these questions, you need to get social and connect with us!  
There are so many ways to be in touch with the City; pick the ones that work best for you.   
MyAirdrie
MyAirdrie is a unique online platform built specifically for our residents in Airdrie. By creating an account, you gain access to real-time information on utilities, taxes, animal licenses, business licenses and so much more.  
Through MyAirdrie, you can: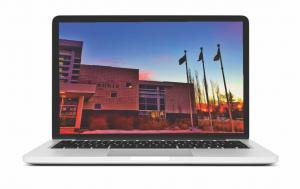 set up text or email reminders to put out your garbage/recycling;

 

apply for or renew your animal licence or business licence;

 

get emergency notifications specific to your neighbourhood;

 

sign up for recreation classes;

 

get notifications when garbage/recycling service is interrupted;

 

pay your bylaw tickets;

 

pay your utility bills and view historical statements;

 

pay your property taxes;

 

set up text or email reminders when utility bills and property tax bills are due; 

 

and more.

 
Sign up for your MyAirdrie account by visiting Airdrie.ca and clicking on MyAirdrie sign in in the top right hand corner.  
Social Media
The City of Airdrie has a Facebook page, Twitter account (@city_of_airdrie) and we post beautiful photos of our city on Instagram.  The best part about our social media accounts is that not only can we keep you up to date on what's happening, but you can ask us questions too. Our social media team is helpful, friendly and online, answering your questions during normal business hours.  
Enewsletters
Want information delivered right to your email inbox? Then our enewsletters are a great choice for you. We have four monthly enewsletters: 
Airdrie Today covers all things City related;

 

Airdrie@Work has great information on local business and economic development;

 

Genesis Place Press keeps you up to date on recreation opportunities at Genesis Place;

 

The Bert Church Live Theatre enewsletter keeps you up-to-date on upcoming shows, day camps, theatre classes and much more. 

 
Community Engagement Opportunities 
Be honest … do you feel like your opinion and feedback won't be heard so you don't bother speaking up? Here are some great examples of where Airdrie resident's voices changed minds and plans.  
Clear bags for garbage were going to be mandatory, but Airdrie residents spoke up and asked for the chance to show they could do better at diverting garbage to organics/recycling without clear bags. 

 

Neither Council nor administration at the City knew the best way to handle laws surrounding cannabis. Through the public consultation, residents were able to shape the municipal bylaws we now have in place. 

 

Feedback on the layout of the fitness centre at Genesis Place prompted staff to survey users about what layout would work best for them. The layout was changed based on the feedback received and customers loved the new design. 

 

Some citizens, especially seniors and households with only one person, found the green organics carts and blue recycling carts very big. This prompted the City to offer a smaller-size cart for those who wanted it. 

 
Whether it's filling out an online survey, attending a public hearing at a City council meeting or taking part in a focus group, your opinion matters. Get involved in community engagement opportunities to shape your city in ways that work for you.  
Old School
Still have a flip phone? No access to internet at home? You can still stay connected with us!  Read your local papers, visit the library for internet access, come see us at City Hall, attend open houses or send us ideas on the best way to connect with you.  
Have an idea about more ways the City can connect with residents? Send your ideas or comments to corporate.communications@airdrie.ca, visit Airdrie.ca or check the City's social media platforms.