"We really want to spark conversations. We want to empower our customers and we want to blaze new trails here."
Since cannabis became legal in 2018, Airdrie was inundated with applications for cannabis and cannabis related shops. As of our press date Airdrie is home to 11 such shops. Three of them are featured here; the common factor? Women are at the helm.
In her words, Ami Ballman, co-founder of Rare Cannabis Co., is blazing her own trail.
A fan of the cartoon Bob's Burgers, she loves a good pun, but also brings her retail marketing background, along with a public relations degree (2012) from Mount Royal University (MRU), to make a strong business case for Rare.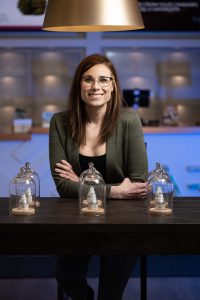 She's taken her experience of helping "small retail businesses connect the dots between lead generation, customer experience and their bottom lines" into her own business.
"Cannabis has been such a game changer in my life, and I really want to share that with others," says Ballman. "We have done something really unique and special with Rare. We've cultivated it, and we're very passionate. We really want to spark conversations. We want to empower our customers and we want to blaze new trails here."
Her goals are to break down the stigmas associated with cannabis by informing and educating the public. She would love to see Rare Cannabis expand into other communities, as well.
The journey to opening Rare Cannabis in July 2019 began when she met her husband and business partner, Damian, at MRU. She moved to Airdrie in 2013, and grew fond of the community.
"Airdrie was such a natural, exciting fit and I just love it here," says Ballman. "It's been really, really interesting to make collaborations and meet others and other retail owners in the community as well."
The trail she's blazed has had "no shortage of hurdles," and took "a lot of hope, a lot of faith."
"Having [the] supportive, passionate tribe surrounding you makes all the difference, especially in a very new industry that's constantly in change and flux," says Ballman.
She's a strong proponent of women in the cannabis industry.
"It's new, it's fresh, it's an industry that we can really claim to be our own," says Ballman. "Women using cannabis in an informed, intentional way is very empowering."
"I didn't want people like me suffering and not having a choice"
Coming from a conservative family where cannabis was frowned upon, Genny Guenther didn't expect her path to cross with marijuana.
The Strain Lane owner's marijuana journey began when she had a painful pelvic disease coupled with endometriosis, which ended her 15-year career as a rock singer.
"Those things were so debilitating to me," recalls Guenther. "I wasn't out of bed in just about two years, when I finally gave up. And last ditch effort, I guess I'm going to go try drugs. But the drugs, or the plant, were exactly what I needed."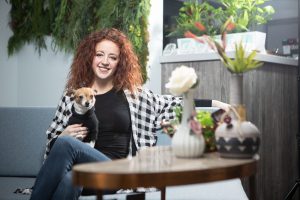 Having property in the U.S., she went south for eight weeks to try cannabis as a medication. She lost about 60 pounds and reduced her medications from eight daily down to two or three. She's only had one flare up in the roughly five years since.
She became an advocate for the plant that was part of the treatment that changed her life.
"I didn't want people like me suffering and not having a choice," says Guenther, who started a medicinal cannabis dispensary first.
The fifth-generation Calgarian, who moved to Airdrie after marrying her husband Grant Guenther about a decade ago, faced petitioning from locals and a large corporation against her business, but she lawyered up and succeeded.
She opened in 2015 and operated in her current location across from The Home Depot for about a year until 2017.
When cannabis was legalized in October 2018, she had already closed the medical side of her business to begin the process of opening the recreational cannabis retailer, Strain Lane, to serve a wider variety of clients.
Genny regards the three years of running and developing the business before it was able to rebrand in the summer 2019 as her "education" in the industry.
"If someone tells you, 'No,' you just have to find another way to, 'Yes,'" says Genny.
"It has been a long and exhausting but very rewarding fight."
"Once I started, I noticed the community support started to build and I just couldn't leave my community," says Genny, noting her three staff are all single moms. "Now I'm Airdrie's biggest fan."
The future of her brand will include expansion with more stores under the Strain Lane name, and work with other partner businesses in the industry.
"This will always be our Cheers, no matter what. This is where I hang out, where my dog is, this is where my friends are," says Genny.
"We're all in, like our heart and soul is in the weed business"
Lona Bronee and her husband, Matt, are pioneering paraphernalia for cannabis.
From their store, Two Hoot on Main, they are selling their own dabbing pens (a device for delivering cannabis concentrates), pipes, vape pens, e-nails, rolling machines and a variety of items from other suppliers.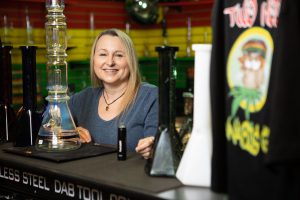 Lona was a server in the hospitality industry for 35 years before making the break into the business full time in 2018 with Matt, who previously painted cars for three decades.
"It was a really big moment," says Lona. "We've thrown it all into Two Hoot."
It began with an awareness of how marijuana use was changing in 2014.
"[Consumers] want concentrates," says Lona. "They're interested in shatter, wax, that kind of thing, and they had nothing to smoke it in. So [Matt] designed a pen and had it manufactured in China, and five years later, here we are. We started wholesaling the pens across Canada."
From their home in Carstairs, "it grew and it grew," leading to them opening their Two Hoot storefront five days before marijuana was legalized Oct. 17, 2018.
Lona says Matt takes care of developing products, while she took a bookkeeping course, and has managed the numbers.
With their pot-promoting store, they're educated in weed culture, but don't sell cannabis itself, as much as people have confused them for a cannabis retailer.
"We're all in, like our heart and soul is in the weed business," says Lona, noting they have a rosin press for customers to use to make their own dabs of concentrated cannabis.