"It adds thermal capacity and insulating factor, it's semi-permeable so it helps with air flow exchange, it continues to absorb CO2 throughout its lifetime, it's a great sound barrier, it extends window life … and it's easy to build with"
"I told my brother Mac, if he could get a patent I'd help him run the business," says Terry Radford, VP of business Development and Sales with Just BioFiber Structural Solutions, "and the rest, as they say, is history." 
Mac Radford was living in B.C. at the time and had been asked by a friend to help construct a custom home in Nelson. There was just one thing – the owner wanted it constructed as much as possible from compressed hemp. Never one to shy away from a challenge, and with 40 years of commercial construction experience under his tool belt, the former farm boy went to work on his first 'hemp house.' 
It was a very time-consuming, labour-intensive process, but he saw the potential if the product could be improved and the construction process streamlined. That's when he got the idea of a modular product, using compressed hemp chips as the base, that was essentially ready for use on arrival at the construction site with a minimum of training. 
Fast forward four-and-a half years to 2019, and the company is producing "a couple thousand blocks a month," says Terry, "which is about what it takes to build an average home. We're still in the pilot stage. Our goal is to become fully automated and be able to boost our production to 30,000 to 50,000 blocks per month."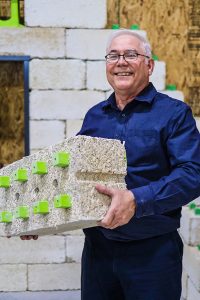 Compressed hemp blocks, made from the company's own 'secret recipe,' have the potential to make cinder blocks obsolete, says Terry, and have many advantages including being mould, fire and termite resistant and, of course, made from one of the most sustainable products available – industrial hemp. The hemp is grown on farms in Alberta, Saskatchewan and Manitoba and has no THC content, the psychoactive ingredient in cannabis. Hemp is also one of the most carbon-absorbing planits on the planet, says Terry, absorbing as much as 1.6 times its weight in carbon dioxide (CO2).
"Our first year was mostly spent on R&D and working out the manufacturing process," says Terry. "We found lots of things that didn't work before we settled on the compressed hemp and composite combination that we have now. We made some product in our second year, and now we're working on several custom home projects in Canada." 
By themselves, the 22-inch long by 10-inch wide by 8-inch tall blocks aren't structurally sound, hence the interior composite supports which make the blocks look like a larger version of a popular child's toy. "We started with wood and metal," says Terry, "and eventually developed the composite material." 
The company manufactures three types of blocks right now – heavy duty, for commercial projects; light duty, limited to about a 20-foot height; and foam blocks, because the hemp blocks can't be used below ground level. The composite 'posts' are manufactured in Ontario, he says, "but we want to bring that to Airdrie too." 
The construction process isn't as cheap as wood frame, says Terry, but the advantages are numerous. "It adds thermal capacity and insulating factor, it's semi-permeable so it helps with air flow exchange, it continues to absorb CO2 throughout its lifetime, it's a great sound barrier, it extends window life by allowing for deeper-set window wells, and it's easy to build with. Each order ships out with everything the customer needs, including a detailed visual construction manual." 
He's even heard back from some customers who've experienced insurance savings thanks to the two-hour fire rating of their walls. 
Both brothers live in Calgary, but chose to locate the business in Airdrie due to the availability of inexpensive warehouse and yard space and favourable business tax policy. The company currently employs 13 full-time employees at its 24,000-square-foot facility in the East Lake industrial area.   
"We feel welcome here," says Terry.