"There's a really strong culture of women supporting women within the community"
Burgeoning population growth and a very supportive climate are driving more women to start enterprises in Airdrie, as is the City providing existing business with the resources to grow and expand. 
Airdrie has been one of the fastest growing communities in Alberta and Canada in recent years with population soaring from only 2,265 people in 1977 to 64,922 in 2017. 
That has been the foundation for creating an environment that makes it attractive for business growth as well. 
"The biggest thing is our market. Being one of the fastest growing cities in Canada, we continue to grow not only our customer base but our employee base," says Kent Rupert, team leader of Airdrie Economic Development. 
"We also have a very strong business community and supportive business community. We see it every day where businesses are always helping out businesses. We have a number of different clubs. We have a strong chamber. We even have the Airdrie Women in Business Association – specifically women helping women work their way through the business process." 
Current growth projections predict Airdrie to grow at a constant rate over the next 25 years to a projected population of more than 110,000 by 2040. 
Airdrie supports business creation and growth in a number of other different ways – lower taxes than in Calgary; no business tax; the ease, speed and personal touch in dealing with the municipality; access to strong markets due to its proximity to the Queen Elizabeth II Highway, the Calgary International Airport and a growing trade area with Calgary nearby; and a number of business groups for networking and support. 
"Part of our job is to make sure we have a strong and positive environment. One of the projects we have is the SMARTstart program (an entrepreneurial training initiative)," says Rupert. "In the last five years, we've put 89 entrepreneurs or 76 businesses through that program, and all those people have local business mentors.  
"I just think that helps create a strong business environment because you have businesses mentoring and supporting other businesses. 
"Our average age is 33 so people are very hungry for business and want to get into it," he adds. "You look at our demographics and half of the business owners are female. There's a really strong culture of women supporting women within the community." 
From new startups and manufacturing, to moving to bricks-and-mortar space or expanding by added locations, here are some successful female business owners in Airdrie. 
New Entrepreneurs  
Allison Anhorn opened her boutique ZIVA&EM Boutique on Yankee Valley Boulevard at the end of March 2018.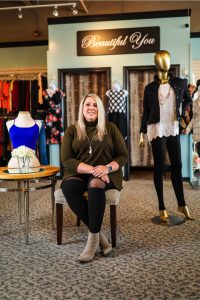 "We're a women's clothing store and accessories. It's a high-end women's fashion store," says Anhorn.  "It was an existing store already. I just really wanted to be an entrepreneur. It was the right time for me. I had worked in downtown Calgary for close to 20 years…. I've lived in Airdrie for the past eight years. I know it's a great place to go into business and how the community supports local businesses. So I was able to buy this business and make it my own." 
Anhorn says Airdrie's small-town feel is conducive to helping entrepreneurs achieve success and women really support each other in the city. 
"It's really just about feeling connected," she says.  
Vanessa Dagenais (and husband Dylan), opened F45 Training at the end of May 2018 in Cooper's Town Promenade. The fitness studio offers personal training in a team atmosphere. Technology is integrated throughout the studio to offer an innovative, motivating, results-driven 45-minute workout. 
Vanessa became a member of F45 in Chestermere, which was the second in Canada to open. She had tried personal trainers and big-box gyms. But personal trainers were too expensive and she wasn't disciplined enough for the gyms. That changed when a girlfriend invited her to the F45.  
"I was hooked and within three and a half months I had lost 35 pounds and was in the best shape of my life. It completely changed my life," says Vanessa. "I came home one day and said to Dylan, 'we need to look at opening one. We need to change other people's lives like it changed mine and ours.' We thought Airdrie would be the perfect community with lots of young families." They also thought a newer and growing community would be the ideal place to start a business. 
Aliser Ramos took over an existing restaurant, Abe's Modern Diner at the Kingsview Market, in July 2018. 
Ramos and her husband, originally from Mexico, have always worked in the hospitality and restaurant industry. She started blogging on a YouTube channel about a year ago to promote local businesses with the intent to show what other women and other businesses were up to. She wanted her venture to help others. When she blogged about Abe's, and spoke about how she and her husband always wanted to own a restaurant, it led to a conversation about buying Abe's. 
"I think we have in Airdrie so many possibilities of starting new things that we don't have (in Mexico). We have the opportunity here," says Ramos.     
Growth Opportunities 
Claudette Kirkwood opened Rocket Fizz in the first part of July 2018 on Kingsview Road.  
"It's a candy and soda shop. But it's a lot more. It is a larger franchise down in the States but we're the first location in Canada," says Kirkwood. "We actually started in Airdrie a couple of years ago under a different name and directly built a business relationship with the actual master franchise guys of Rocket Fizz. They offered us an opportunity to open one and it was something we couldn't pass up. 
"Airdrie has been amazing. They have been very welcoming. Airdrie comes across as small town but it's actually quite large – a large population base. They seem to really want to shop local. So that's been really good. There's so many benefits to Airdrie as opposed to (Calgary). Airdrie doesn't have a huge business tax like Calgary does. So that's a major draw." 
Jo-Ann Scott-Noye opened her Kingsview Market location of PhysioWorks in October 2016 and expanded to another location in Cooper's Town Promenade in September 2018. 
"We're (a) physiotherapy and massage clinic. One of the impetuses of opening it for me was to provide the level of care that I thought our clients needed. So we're a little different than some of the more traditional clinics. We try to offer very personable, welcoming environments. Many of our clients feel like they are part of our team," says Scott-Nye. "We offer a little bit more hands-on treatment.… The big thing for us is that sense of community that I really feel like we have created. 
"We offer a place where people enjoy coming. We've made it a little more of a pleasant experience and we've created a really loyal following. We try to be really involved in the community, support other businesses, support local charities, and that presence in the community is really important in Airdrie because it's still a small-town feel…. People want to feel that you are part of the community; that you're involved." 
Nadine Woitt has been running Mezzanine Hair Studio in Airdrie for about 16 years. The studio moved to Cooper's Town Promenade just over a year ago from Edwards Way.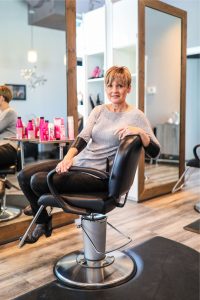 "It was definitely an upgrade for sure. We didn't necessarily take on bigger space. It's a better location," says Woitt of the full-service hair salon specializing in Redken products. 
"Airdrie is a great community to do business in. I've been in the community for just over 20 years now and have been working in this industry for that period of time. The community is very supportive. I value them. I support community as much as I possibly can. It's been a really good adventure for me." 
Woitt says her business has grown significantly since its inception and she adds she has managed that growth because of the great staff she has in the studio.  
"We've seen considerable growth over the years for sure. This previous move has been huge for us," adds Woitt. Managing the studio's growth has been a lot of hard work combined with perseverance, she says. 
Jacqui Jepson's business, The Pink Wand Cleaning Service, has seen tremendous growth since it opened as a residential and commercial cleaning service in Airdrie 11 years ago, with plans now to franchise the operation to other parts of Alberta. 
Today, The Pink Wand has 11 different locations that it services, from Okotoks to Olds and Didsbury.  
"The business community in Airdrie is amazing and supportive. We have lots of different programs to support entrepreneurs and their success. SMARTstart being one of them," says Jepson. 
"The entrepreneurs within the community support each other. We come together for various causes and to help each other with our businesses as well. I think the city is super supportive of small business in Airdrie." 
"The members of the City know everybody in the business community by name and they're asking what they can do to help out," adds Jepson. 
Erin Hardy and Jennifer Friesen decided to open their clothing boutique Seven Saints in Cooper's Town Promenade in the middle of September 2018. 
"We had a mobile boutique for the last four years. We had like a vintage motorhome that we had refurbished," says Hardy. "We did lots of markets and festivals around Calgary and Airdrie, as far as Red Deer. We expanded and put down roots with the brick and mortar. 
"We had a pretty good customer base and the demand was there. We have the online store too but not everybody's an online shopper. We just realized it was time to have regular business hours and give people some more." 
Hardy says location was really important for the business.  
"Airdrie's been awesome to us. Supporting local is really important to people. We really feel that. We have an amazing following here," she says.