In conjunction with Airdrie Meals on Wheels, Volunteer Airdrie is hosting a Seniors and Persons with Disabilities Festival on Saturday, May 13, from 11 a.m. to 4:30 p.m. at the Airdrie Town and Country Centre, #103, 275 Jensen Drive NE.
The event is hosted by Air 106.1's Claire Spencer and showcases a variety of music, dancing, and magical acts by local performers.
Reintegrating seniors and disabled persons back into the community is important for the people of Airdrie, making it important to Volunteer Airdrie.
"Recognition and awareness of seniors and disabled persons must be improved to contribute to their well-being," says Dave Maffitt, Chair of the Board of Directors for Volunteer Airdrie. "Re-engagement of these citizens as volunteers in our community, post-pandemic, is a priority for Volunteer Airdrie and the City of Airdrie."
Companies such as London Drugs, Bethany Seniors, Day to Give Back, Co-op Home Healthcare Equipment, and more, will be at the festival to display their products for the more than 300 people who are anticipated to attend the event.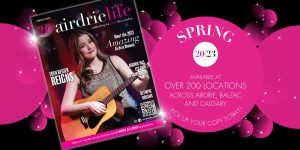 Tanya, a volunteer at Volunteer Airdrie says, "I volunteer because I like to give back.  When I couldn't afford homecare for my grandparents it was volunteers who helped get me through and gave me much-needed breaks and asked for nothing in return."
The Volunteer Airdrie Society is an Alberta non-profit organization and CRA-registered charitable organization, which operates as the official volunteer centre for the City of Airdrie and the immediate surrounding area of Rocky View County.
Back in 2010, a group of 10 Airdrie citizens started Volunteer Airdrie with the hopes to recruit volunteers and build a community that gives back to the people of Airdrie. Today, there are 11 board members and over 1500 volunteers, from ages 20-60.
Seniors and persons with disabilities are a major group within the Airdrie community and whether you are a volunteer or need assistance, this event is open to all and is free with an RSVP through Eventbrite at www.eventbrite.com/e/seniors-and-persons-with-disabilities-volunteer-open-house-tickets-534885305347.