Airdrie's own Skyefire Bakery has been featured on the Food Network show Project Bakeover.
"It was a pretty amazing and very enlightening experience to have them in our space. It was a bit of a dream for me," says Scott Williams, owner of Skyefire Bakery and baker with more than 20 years' experience.
"They really just helped me to see what was right in front of me. Sometimes the solution is right in your face and you just need someone to show it to you."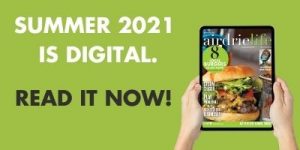 According to the Food Network website, in Project Bakeover, renowned pastry chef, master chocolatier and entrepreneur Steve Hodge throws a lifeline to struggling bakery businesses on the brink of losing it all.
Drawing on his finely-honed chef skills, his passion for desserts and his business acumen, Hodge reinvigorates and inspires the desperate bakery owners, while design guru Tiffany Pratt transforms their tired, uninspired bakeries into warm and welcoming spaces. Together they get these businesses turned around and on the road to success.
Hodge says working with Williams was a treat when the show was in Airdrie to film in October 2020. The two bakers knew a number of the same people in the industry and visited a common friend while Hodge was in town.
"His bread is unbelievable," says Hodge.
"I have had bread from all over and his is some of the best I have ever had."
The bakery officially opened near Airdrie's downtown in 2019 but construction on Main Street and the COVID-19 pandemic quickly put a damper on their fiery start.
"We were struggling," admits Williams.
"I needed help with the leadership part of the job and getting my staff to work more effectively. We also needed some simpler recipes that were easy to teach."
Hodge agrees, saying Scott is a well-trained, passionate and talented baker but needed help with the business side of things.
"People who are this passionate about what they do, think that they can just do their thing and their items will sell and that's not necessarily the case," says Hodge.
"He has worked with a number of mean chefs and he didn't want to create that environment but because of that, he wasn't given them any direction or leading at all."
Click on the image below to watch the Skyefire episode of Project Bakeover.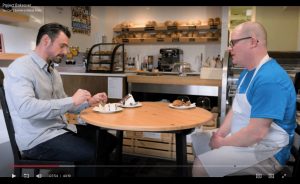 Hodge adds that the fact that a local sweets bakery recently closed opened up a huge market opportunity, so he helped to steer Williams in the direction of easy and versatile desserts.
"When I bring desserts into a bakery, the desserts have to make sense to what the bakery is doing," says Hodge.
"Skyefire is comfortable and cozy so the dessert recipes that I gave him reflect that and give him the same from-scratch feel that his bread has while allowing him to use some of his bread items to decrease wastage."
Hodge and Williams both added that it is more important now more than ever to support local businesses.
To view the episode of Project Bakeover that features Skyfire, affectionately called You Can't Survive on Bread Alone, click here.
To learn more about Skyefire, click here.
stacie@frogmediainc.ca