The organizers of the long-established local charity Stephen's Backpacks Society say they have to work three times as hard for a third of the donations during the COVID-19 pandemic.
Due to the pandemic, the charity was forced to cancel three major fundraisers so they pivoted by sending out foundation and corporate grant letters.
For 15 years, the organization has had more than 500 volunteers a year to pack backpacks for those in need. This year, Stephen's Backpack Society Director Nancy McPhee says there will be three people packing the bags.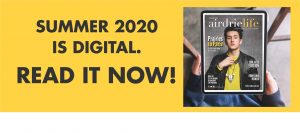 "With the number rising again in Calgary we want to keep our treasured volunteers safe," she says.
"Assembling the teacher's kits and backpacks involves a lot of touching product so we made the decision to keep it just to us."
She adds that the 4,000-square-foot warehouse space that they use has been deeply sanitized and the products they receive will sit for three days prior to assembly. The team will also wear masks and gloves.
"When the pandemic first hit, we discussed how we could really make a difference and decided that with all of the families in need struggling even more, that we would focus on a back-to-school program to relieve the financial burdens when children were returning to school," says McPhee.
She adds that the charity introduced teachers kits last year and they were received incredibly well.
"No longer did teachers have to purchase supplies for children who did not have the necessary tools to succeed," she says.
"Many letters that we received showed so much gratitude and encouragement for our teachers. This year, it is even more important to support and encourage our front-line teachers."
They aim to create 300 teachers kits, which supports 3,000 children in need. Each box contains all the required items including backpacks, school supplies, hygiene items and sanitizer for the classrooms.
"We want to encourage those front-line teachers this year and show them how valuable they are to our children and their futures," says McPhee.
Stephen's Backpacks has partnered with Rocky View School Division to ensure the teachers kits and backpacks reach the most vulnerable students.
If you are interested in donating to the 2020 Stephen's Backpacks Society Back-to-School initiative, items can be dropped off at Superstore. Money donations can be made on by clicking here or through Shaw Birdies Chip in for Kids by texting KIDS175.
Donations are being accepting until Aug. 30.
For a list of needed school supplies, click here.
Last year, the charity handed out 7,000 backpacks, bringing their total for 15 years to over 70,000 children in need.
The organization has also furnished 32 homes through their initiative Project Hope and given 15,000 pairs of shoes for children returning to school.
For more information on the society, click here.
stacie@frogmediainc.ca