It is easy to come up with a number of downsides of the COVID-19 pandemic, but there have been a few unexpected upsides as well.
The free time brought on by the social isolation of the pandemic helped a local teen children's author and illustrator finish her second book.
"It kept me happy and calm during that unpredictable time, knowing at the end of the quarantine, I'd be able to reach out and touch more lives with my new story," says Mackenzie Cox, 17.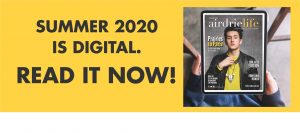 She started her book called What Makes Me Special as her final WH Croxford High School academy project, but finished the work while social distancing at home.
The story follows Nikku the Narwhale and his two friends Paunna the polar bear and Pitsi the penguin. Nikku isn't sure what makes him special, but soon he finds out it has been right in front of his nose the whole time. The characters are named after streets and villages in Iqaluit, the capital of Nunavut.
"I want parents to know this is a book to help children and even themselves celebrate their unique and beautiful qualities and differences," says Cox.
An inspiring message similar to that of her first publication.
Cox wrote her first book, that is available on Amazon, as part of the Visual Arts and Media (VAM) Academy in WH Croxford High School when she was in Grade 10. When I Grow Up is about Baxter the bear, who wants to become an owl when he grows up. His friends find his dream silly, but they help him and learn that Baxter can become whoever he wants to be.
"I wrote my first book with an identity message for children telling them no matter who they are, they can become whoever and whatever they want to be," Cox says.
"The message also touches parents lives and I hope that they will support their children's endeavours and dreams."
The young author has sold 80 copies of When I Grow Up herself and about 160 on Amazon.
"I am so happy I have touched so many lives with my art and writing and love to hear parents and children's feedback on it," she says.
Both books are accompanied by Cox's colourful watercolour illustrations that add movement and light, almost making it seem as if the characters are moving on the page.
"The style I have found brings children into the book because they are fascinated with the rainbow bear or rainbow fish," says Cox.
Cox says her favourite part of writing children's books is the process of learning and growing with the characters.
"My little penguin from my second book, I didn't know he was going to be as spunky as he was, and in the end, I rewrote the book to match his personality that came to life on the pages," she says.
"I also have adored reading my stories to children and seeing their reactions and thoughts."
What Makes Me Special is now available for sale on Amazon. Cox will be doing a book signing later in the year that will be announced on her website and Instagram and Facebook pages.
stacie@frogmediainc.ca