Airdrie's Project Linus is getting back to what the charitable organization does best – giving out "hugs."
The group of more than 50 Airdrie and area volunteers gives blankets, which they call their "hugs," to children (ages newborn to 18) in crisis due to:
serious/critical illness
loss of a family member
situations involving violence, abuse or poverty
teens at risk of suicide and other mental health concerns
fires
floods
other situations of hardship
The group was required to take a hiatus and put a hold on any blanket deliveries during the pandemic, but have recently been given the go-ahead from the head office of Project Linus Canada to start up again.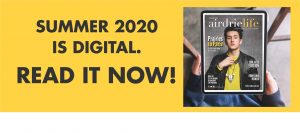 "Our mission is to provide a sense of love, security, warmth and comfort to children in need in and around our community," says Kimberlie Ferrier, Project Linus blanketeer.
The Airdrie chapter has made donations to three local agencies including the Airdrie Food Bank. The most recent large donation was delivered earlier in July, when they gifted 50 blankets to an agency called Closer to Home, for the foster children in their program.
The organization distributes blankets to children and teens via targeted agencies such as local schools, the Rocky View School Board, First Student Bus Line and area hospitals.
"We also work closely with other local organizations and charities to extend our reach throughout the community; such as Community Links, Airdrie Angel, The Airdrie Food Bank, Stephen's Backpack Society, Airdrie and District Victims Assistance Society, Rotary Flames House, the EvenStart Foundation, Closer to Home, Sage Hospice and a new partnership with Airdrie's Children's Hospice," Ferrier adds.
The blanket deliveries are now done with extra precautions including sanitizing the outer packaging of the blankets, using a zero-contact delivery practice and advising the recipients to wash the blankets before using them.
"These blankets aren't just a collection of fabric and yarn, but a hug created by one of our blanketeers," says Ferrier.
"They spend hours, days or even weeks giving their time and skills to create it. Our chapter knows that there are children hurting in our community, when we think of them, all we want to do is what anyone would want to do when they see a child hurting or in pain: We want to wrap them up in our hugs and let them know that someone is thinking of them and that things will be OK. That is what Project Linus is, and being allowed to gift our blankets again, lets us fulfill this need."
She adds that the Airdrie chapter was founded in 2011 and in the past few years has grown from five to more than 50 blanketeers, made up of local Airdrie and area residents. Last year, Airdrie's Project Linus gave more than 800 blankets to Calgary and area children.
"Each of those 800 blankets has a story," says Ferrier.
"A four-year-old going through multiple open-heart surgeries. A two-year-old boy battling cancer, and his nine-year-old sister whose lives have been forever changed. Four children whose mother left everything behind to get them out of an abusive situation, these are the reason we do this."
By the end of August, Airdrie's chapter plans to give 130 blankets, to the Evenstart Foundation, a Calgary based non-profit that has provided services to children from backgrounds of trauma for more than 20 years.
If you know of a child or teen in hard situation who could use a bit of comfort, email airdrieprojectlinus@gmail.com
For more information, click here.
stacie@forgmediainc.ca