Airdrie Mayor Peter Brown said the COVID-19 pandemic has been "extraordinarily difficult for so many people on so many levels" during the first-ever virtual State of the City address on June 25.
"COVID just shut everything down so all of the momentum we had, it changed the whole landscape of where we were trying to go and how we were going to get there," he said.
"It has been a journey… and one that I hope we don't have to duplicate any time soon."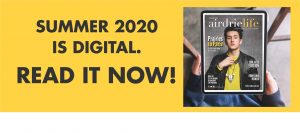 He said the City had to lay off over 180 employees during the height of the pandemic and estimated that the City is looking at roughly a $3.5-million shortfall in the first quarter, which will be covered by reserves.
"We are all in this together… and we are going to get through this together," he added.
Brown outlined the City's six priorities during the Telus Business Connect Meeting:
Affordable housing
Downtown revitalization
Public engagement
Transportation
Community infrastructure
Attracting and retaining business
He said Airdrie has fallen behind with affordable housing and currently has any 44 units, despite recent studies showing a city this size should have more than 1,000 units. He added that council should be updated on the progress in the fall.
The downtown revitalization is a project that has been in the works for a number of years now. It is designed to draw people to Airdrie's downtown core as a tourism spot that is viable and walkable. Council will also be updated on this later this year.
Face-to-face public engagement has proven challenging since the pandemic, but Brown says the City's online resources are being well used. He added that the City will be looking for feedback on how the municipality can better connect with residents in upcoming months.
He went on to say the 40th Avenue partial interchange is a large portion of the City's transportation budget (around $35 million of the projects total cost of $70 million has been set aside this year).
He added that he is disappointed by the lack of support from the Province.
"All Airdrie is asking for is our fair share… we are not seeing it and it's about time we did," he said.
"We have had $1 million in 10 years… invested in the Highway 2 corridor (and) other municipalities have had hundreds of millions of dollars. Red Deer, for instance, has had $190 million… four years ago…. We are still not seeing the fair distribution of tax dollars."
He said the same is true for other community infrastructure such as health care centres.
Other important infrastructure projects Brown mentioned include a new library, a firehall in the northeast quadrant and a second recreation centre in the southwest.
On the topic of attracting and retaining businesses, Brown sympathized with local owners saying he "can't personally imagine the stress… and challenges of day-to-day life through the last three months."
"We've got…. some of the most creative and innovative business owners and entrepreneurs anywhere," he said.
"They seem to make things work even when there doesn't seem to be much hope."
He said the City wants Airdrie companies to foster and grow and the Economic Development department has put together a number of online resources for business owners including:
He added that the City has also suspended late fees on water and utility payments and property taxes until Sept. 30.
Brown closed the State of the City address by thanking local businesses for continuing to look out for those less fortunate while going through a hard time themselves.
"Even though you are in this situation, you haven't forgotten about…. the organizations that are making life better for those who you will never meet and that is what community is all about," he said.
For more information about the City of Airdrie's resources for businesses during the pandemic, click here.
To watch the State of the City address on YouTube, click here.
stacie@frogmediainc.ca