Everyone knows someone who's life has been touched by family violence. You may not know it, but you do.
Family violence happens behind closed doors and is under-reported to police, who simply cannot address it alone.
That's why events like the annual Know Where To Turn run, which began in 2017 as the Legacy Run to End Family Violence, are so important. Funds raised through the event go directly to support the frontline family violence services Community Links has been providing in Airdrie for more than 18 years.
The event takes place Sunday, May 7 at Ed Eggerer Park, starting at 9 a.m., and features four separate events: 5K, 10K, Half Marathon and a Kids' Race. In memory of Airdrie resident Andrea Conroy, who was taken from her children, family and community in an act of domestic violence on February 21, 2012 at the age of 33, the 5K event has been re-named Andrea's Run.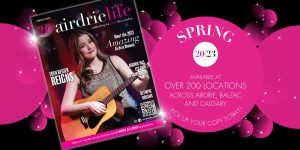 You can support family violence prevention services by racing, walking or volunteering at the event. You can help raise money by registering to run, being a sponsor, or making a donation.
Of course, donations are welcome anytime and are helpful with the following:
$25 donation would help cover the cost of a gas card to travel to medical appointments or get groceries.
$50 donation would help a family in need of emergency food support.
$75 donation would help cover the cost of a purse filled with emergency items for a woman who is fleeing family violence with her children.
$75 donation would help cover the cost of childcare for families attending the Family Violence Women's Support Group at Community Links.
$100 would cover the cost of ten sessions of counselling for a family who is experiencing situational crisis.
For race event information or to sign up, visit www.knowwheretoturn.ca
For information about Community Links, visit www.mycommunitylinks.ca