An Airdrie court trauma dog and his handler are the proud recipients of this year's Alberta Community Justice Award.
Jake, a five-year old, purebred, black Labrador, has been actively engaged in Airdrie since he joined the force in November 2019.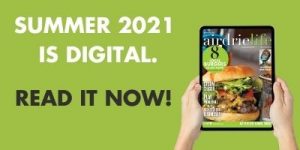 To date, he has worked on 47 court files (including meetings and court attendance) and supported 89 victims including children, youth and adults.
"Jake and I are so incredibly honoured to receive this prestigious award on behalf of Airdrie & District Victims Assistant Society," says Court Coordinator/Trauma Dog Handler Deb Reid .
"We would like to acknowledge our entire unit including staff and volunteers and the RCMP, with whom we partner, to provide support to our community. We are especially grateful to the Lions Foundation of Canada Dog Guides that bred and trained Jake, and to Kiwanis Foothills who support our trauma dog program."
She adds that Jake provides comfort and support to children and adults during statements and to build rapport and bond with a person.
The pup is also present for meetings with RCMP and Crown Prosecutors where the teams prepare victims for testifying in court. He also appears in court as a "court aid" and provides support to victims throughout the court process, and during urgent care and hospital visits.
According to alberta.ca, the recipient of the Alberta Community Justice Award have shown exceptional leadership, innovation and dedication to working and volunteering in community justice.
The following criteria are also used to review nominees and choose recipients:
Leadership – exceptional leadership ability.
Innovation – innovative solutions or approaches in the nominee's work or volunteerism.
Service enhancement – deliberate steps to enhance the services the nominee's organization provides.
Community mobilization – efforts to get the community involved and address local issues.
Partnerships and collaboration – effective connections and partnerships with other agencies and parallel organizations in the community.
Jake's coworkers and colleagues in the Airdrie RCMP Municipal Enforcement detachment are very proud to celebrate his recognition, according to a City of Airdrie press release.
"We are extremely proud of Debbie and Jake and very grateful that they've been recognized for the positive impact they've made in Airdrie and area," says Mayor Peter Brown.
"This is well-deserved praise for the tremendous support they provide to some of our most vulnerable community members."
Brown adds that this award acknowledges the extraordinary contributions that Jake and Reid bring to the community.
For more information on the Alberta Community Justice Awards, click here.
stacie@frogmediainc.ca