In light of the COVID-19 pandemic, families have been spending much more time at home.
Although the recent warm weather is helping us get outside and be more active, it is spring in Airdrie and we all know that means we are still in for the odd rainy and cold day.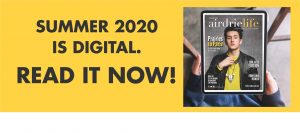 It can be challenging to find indoor activities that will get your children's bodies moving and keep their minds busy, so they aren't constantly asking for screen time to entertain them.
Whether you are still trying to work from home, need to get some things done around the house or want to take part in some activities with your kiddos but are running out of ideas, here is our growing list of Boredom Busters that will keep your kids' minds and bodies active.
We will add a new activity to the list every Monday at 10 am so keep checking in whenever you hear "Mom! I'm bored!"
Pillowcase Race – Nothing like a good old-fashioned sack race to get the blood flowing! Bump up the education factor by getting them to race to papers with number, letters or colours written on them.
Tape Track – In your largest tile or concrete floored room, put down some painters' tape as a maze or racetrack. Get them to use their brains by making parking stalls or corners of the maze with letters, numbers or colours in them and telling them to find their way to the number 3 or park the blue car in stall A.
Scoop & Strut – Put a ball on spoon, measuring cup or cup and walk, skip, crawl to the other side of the room to place it in the correct colour-coded basket or bowl.
Tot Toss – Throw bean bags into bin with corresponding colours, numbers or letters. "Throw a pink bean bag into bin 2!"
Action Alphabet – Write letters (or numbers or colours) on some papers, place them around the room and the possibilities are endless! Dance to the letter A, hop to green, twirl to the number 4.
Erupt in Laughter – If you have a few pantry staples (baking soda, vinegar and food colouring), you can create an exciting erupting volcano that will have your kids asking you to do it again and again.
Hands On – Work together to trace the parts of your child's body on separate pieces of paper and then put them together like a giant human puzzle.
Glitter Globe – Put water, food colouring and sparkles in a jar or resealable bag (tape or glue the lid/seal shut). Let your kid shake and twirl it for tons of fun! (You can also add small plastic toys that will peak out of the colour and sparkles).
Pillow Pile – Find every pillow and cushion in your house, line them up on the floor – that's it! Kids love to make paths, forts, slides and pretty much anything else their imaginations can come up with out of pillows and blankets.
Pop Up – Bubbles don't have to be used outdoors and if your kids aren't used to blowing them inside, it's even more fun! Have them catch bubbles in different sized, shaped and coloured containers for added education value.
Budget Bowling – If you have paper or plastic cups left over from your kid's last birthday party, you have an instant and awesome game! Stack them on top of each other and knock them down with a ball for tons of fun.
String Fling – This one takes a bit more time for set up but can really pay off. Tape some string to the walls throughout your house in a zig zag pattern and have your kids follow it from room to room. For an added bonus, put toys (that they already have, no need to buy new) at the end of each coloured string for them to find.
Pasta Play – Using coloured pasta, invite your child to scoop and measure in order to strengthen hand eye coordination. For older children, supply a piece of yarn or string to create a necklace.

Balloon Keep Up – Challenge your child to keep a balloon from falling to the floor without catching or holding it! Add in some counting practice. How many times can they hit it up before it falls?

https://airdrielife.com/lifenow/indoor-activities-that-will-keep-your-kids-busy-when-cooped-up-at-home/