Luxstone Senior Living is working on a beautification project to enhance the courtyard behind the residence and organizers are asking local volunteers to help make a local artist's vision a reality.
Seniors Week runs from June 7 to 13 and in celebration of the seniors who call Luxstone home, Jennifer Harbour, community relations coordinator for Luxstone, says the organization has come up with a few ideas to beautify the outdoor living space.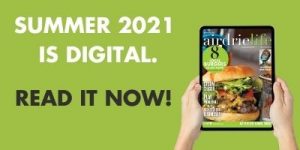 "We are thrilled to announce that local artist Veronica Funk has created a beautiful sketch of a Canadian landscape mural," says Harbour.
Funk's work has been exhibited in private and corporate collections world-wide. The artist says she wanted to take part because she has always had a special place in her heart for seniors. Last year, she painted 52 portraits (one per week) of local grandmothers and great-grandmothers that were sent to her from people in the community.
"When Jennifer and I met to discuss the project, we talked about the fact that the residents have come from across the country, so I wanted to incorporate a simple landscape that loosely represents Canada from the west to the east coast," says Funk, of the sketch she created.
"I love these kinds of collaborative projects. It has been an extremely difficult year so I think that getting out and coming together for our seniors is a great step into what I believe will be a brighter future."
Harbour says the sketch Funk has designed will be applied to a commercial construction trailer that is currently parked on the east side of the property and will measure 20 feet wide by nine feet tall.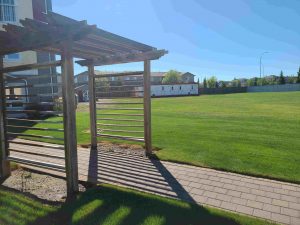 The goal is to involve as many members from the community as possible by helping to paint the artwork and fill in some empty spaces with plant life.
"After the employees of the manor prime the structure, I will paint the outlines of the mural on it so that volunteers can paint the mural – kind of like a large colouring book," says Funk.
"I created a small sample using pencil and watercolours on paper so that there is kind of a 'map' to follow. I will make any adjustments as required once the volunteers have completed the mural so that no one has to be concerned about being too precious or about needing to have any artistic experience."
The team at Luxstone will be scheduling volunteer time in order to practice safe social distancing to complete the project with no more than 10 volunteers working on the project at a time. Work will start on the project on June 5 and the piece is expected to be completed by June 19.
Harbour says they welcome support from the community by way of donations of painting supplies, landscaping materials (such as schrubs, trees, annuals etc…) and volunteers.
"Our goal is to create a one-of-a-kind art piece to be enjoyed by our senior community who live at Luxstone and for members in our surrounding community who will enjoy the beauty of this community focused project for years to come" she adds.
"How cool would it be to have one more beautiful piece of artwork in our community for people to come and check out?"
To sign up to volunteer, contact Harbour at jharbour@extendicare.com or 403-945-4803.
For more information about Luxstone Senior Living, click here.
For more information about Veronica Funk, click here.
stacie@frogmediainc.ca