The Airdrie Festival of Lights and 948 Brewing have partnered to really let Airdronians 'get their glow on' at this year's event with the creation of a new craft beer curated by 948 Brewing Co. called Feel the Glow!
This new beer will be introduced at the Festival of Lights brand new Adult Only Event ~Feel the GLOW ~ on Saturday, December 10, along with other craft beer from 948 Brewing to sample and purchase.
The event will also feature Airdrie local musician Brandon Lorenzo for an intimate concert, and Saucy Shawn's Fine Eats will be on-site with food available for purchase. The lights in the park will remain on until midnight too!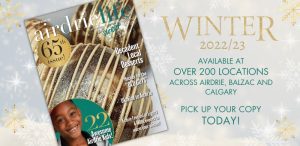 The Festival of Lights will be open for family fun from 5 – 9 p.m., and then the party continues with adults only from 9 p.m. to midnight. Before heading home, you can purchase craft beer to take with you.
Tickets are $10 per person and went on sale Friday, November 25, at 948 Brewing Co. Tickets will also be available to purchase in the park, starting on December 1, when the Airdrie Festival of Lights officially opens.