This year, our entire world has been affected in so many ways by the COVID-19 pandemic. The toll this has taken on all non-profits is enormous and far reaching.
"There is certainly no doubt that many of the organizations that you may currently support have doubled their efforts for fundraising at this time," says Brenda Hume, executive director of Airdrie Community Links.
"Community Links is no different, except in one very significant way. We are local."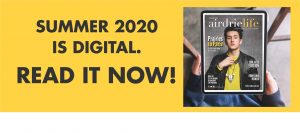 According to a recent fundraising letter, during the period from April 1, 2019 to March 31, 2020, Community Links has:
Supported 10,935 individuals through various programs and services

19 per cent children (0 to six),
20 per cent children/youth (seven to 18),
49 per cent adults
12 per cent seniors

Worked with 6,792 families
Connected residents more 11,005 times with various additional supports
Provided 18,791 referrals to individuals for additional support
Community Links is a resource and support for 13.5 per cent of Airdrie's growing population.
"Your support can make an incredible difference in the life of a child needing emotional support, a senior needing someone to help them with their pension paperwork, a family needing parenting information or an individual in crisis in your community," says Hume.
Over the past 11 years, the organization has worked with an average of 11,475 individuals annually.
"By donating today, you can help us continue to provide the necessary supports to individuals and families during these extremely trying times and through a variety of unexpected circumstances caused by COVID-19," says Hume.
For more information or to donate to Community Links, click here.
stacie@frogmediainc.ca