The Airdrie Public Library (APL) is inviting poetry lovers to attend the first-ever virtual open mic night on June 20 from 7 to 9 pm.
"We invite local talent of all ages to come share their story writing and poetry talents with others or simply listen in and enjoy," says Chantal Patton with APL.
"All are welcomed but be aware this is uncensored content."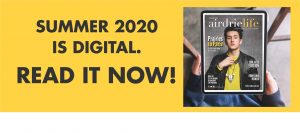 Each participant will receive five minutes to recite their original work.
The event's featured reader is Vivian Hansen, an accomplished poet and freelance writer with a variety of publications.
Hansen uses her voice to advocate for societal subjects like gender and racial equality. Vivian is this year's winner of The Writers' Guild of Alberta Golden Pen Award, which is presented to acknowledge the lifetime achievements of outstanding Alberta writers.
Hansen's publications include three full-length books of poetry, Leylines of My Flesh, which chronicles the experiences of Danish Canadians in stern Canada.
A Bitter Mood of Clouds was released in 2013, and records the life and times of Arne Petersen, who received sex reassignment in Denmark in 1953.
Most recently A Tincture of Sunlight (2017), the story about Old Man, a WWII veteran, biologist and life commentator.
Hansen has published recent essays in Coming Here, Being Here and in Waiting.  She has a short piece in the Calgary Public Library Dispenser Series (2019) "Where We Surfaced."
Hansen teaches for the Faculty of Continuing Education with the University of Calgary, in the Certificate Program in Creative Writing. She holds a BA in English from the University of Calgary and a Master of Fine Arts from the University of British Columbia.
"If you enjoy poetry/story writing or want to find inspiration to write or recite your work, an open mic is a great event to attend," says Patton.
"People who attend spoken work events are supportive and it is a good way to network and meet like-minded people in your community."
She added that is it hard to beat the vibe you can get from live open mic nights, but a virtual mic night is the best choice during the current situation.
"This provides an outlet for the writers out there," she says.
"If you have never recited before and want to, but are a little nervous, a virtual open mic might be a good start."
Registration is necessary for the Zoom event. To register, click here.
stacie@frogmediainc.ca