The rainbow Pride pathway will be a permanent fixture in Nose Creek Park.
Airdrie City Council recently made the decision to make the colourful walkway everlasting after it was vandalized, and re-painted, twice in a matter of weeks this spring.
"It's our park, it's our place, it's where we live, it's our community. We're diverse, we're inclusive, we welcome everyone," says Mayor Peter Brown.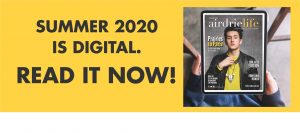 President of the Airdrie Pride Society (APS) Kiersten Mohr says it was impactful that Brown was the person to bring this proposal forward, and the fact that it was unanimously supported amongst council, shows that "our city leaders are united in ensuring that the city of Airdrie is inclusive and safe for everyone."
"Over the last few years, APS has built a wonderful, respectful and cooperative relationship with the City of Airdrie and I think that foundation has been instrumental in ensuring a united and positive response to unfortunate acts of hate the community absorbed only a few weeks ago," she adds.
Mohr says members of the APS are grateful for the support, both emotional and financial, from the city, the province and across the country in the last three weeks.
"This has given all of us at APS the breath to keep going and, with respect to the permanent installation, has empowered us to begin to consider some beautiful community-funded options," she says.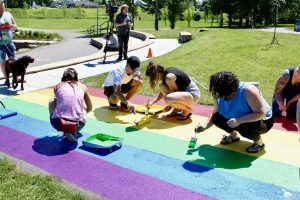 APS has reached out to other jurisdictions that have completed permanent installations and connected with a contractor who has done this work across Alberta. The Society plans to prepare a formal proposal that they will present to council in the next couple months.
"In considering the design of the new pathway, it is critically important to us that we ensure it represents everybody," adds Mohr.
"As we all know, the acts of hate were targeted at the LGBTQ2S+ and BIPOC communities in Airdrie.  That is front of mind for all of us, and as we look forward to the design. There is an opportunity to complete an installation that is inclusive of everyone."
She says Airdrie Pride is excited to have the opportunity to lead this initiative and to be part of building this beautiful symbol of inclusivity in Airdrie.
For more information and updates on the project, follow APS on Facebook or Instagram.
stacie@frogmediainc.ca