Editor's Note: The above photo features Crystal Boys, president and founder of Airdrie P.O.W.E.R., from an article featured on page 79 of our Spring 2020 edition. Read it here.
After about three years of planning, procuring and construction, an important resource for women looking to escape abusive relationships has finally opened.
The Airdrie P.O.W.E.R. (Protecting Our Women with Emergency Resources) day shelter opened its doors on Feb. 22.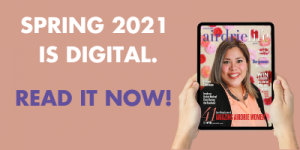 "We are so very grateful to all of the people and business who donated their money, time and materials to the project," says Dana Gable, operations manager of Airdrie P.O.W.E.R.
"It was a long and expensive process and we are only here through the generosity of Airdrie."
The shelter is located in a converted home in an undisclosed location in Airdrie.
The construction project was originally slated to cost about $65,000 but that cost ballooned to about $300,000, according to Gable, due to a number of complicated factors including asbestos being found on the property, getting the building up to code, converting from residential to commercial zoning and the COVID-19 pandemic.
"The schedule and scope of the project were changed many times due to many factors," she says.
The day shelter is currently open by appointment only due to COVID-19 restrictions, but Gable says the staff and volunteers will do everything they can to support women who are in an abusive relationship or those who have left one and are dealing with the aftermath.
"We find that supports tend to end once you leave and the problems don't necessarily stop there," she adds.
"You are left finding a new normal and building a new life and we are here for those women as well."
She says the shelter also helps women who aren't sure if they are in an abusive relationship.
"We can be there through all of the stages, not just at the crisis" Gable says.
"Come and tell us your story and we can let you know if there are some red flags that you should be looking for."
She adds women who reach out for help from Airdrie P.O.W.E.R. can expect to be welcomed with open arms. The shelter is animal and child friendly and is completely baby proofed.
"We get to know you and your story and you are completely in the driver's seat the whole time," Gable says.
"We are here to support your decisions and connect you with the resource you need. This is a place where you will not be judged."
She adds that people don't often understand what a day shelter does but says 95 per cent of women who leave an abusive relationship don't stay in an overnight shelter.
"We find that what most women need most is the support to navigate the system on their own as it can be very overwhelming," she says.
"All of our supports are individualized to each person because each situation is completely different."
She adds that the need for the services that Airdrie P.O.W.E.R. provides will only grow due to the mental health pressures brought on by the COVID-19 pandemic.
"All studies are showing that there is an increase in domestic violence with the pandemic and isolation," she says.
"It is making everything harder and it's a problem everywhere. People like to think it is "not in my backyard" but domestic violence is a reality regardless of economic situation, race, age and other factors."
If you are interested in booking an appointment at the Airdrie P.O.W.E.R. day shelther or learning more, call 403-960-0644 or email info@airdriepower.com
Gable adds that the organization is still looking for funding to pay for staff for the day shelter and encourages anyone wanting to donate to visit the Airdrie P.O.W.E.R website by clicking here.
stacie@frogmediainc.ca