City Council decided that face masks will not be made mandatory in Airdrie during a special meeting on July 28.
"I thought it was important that our community, being in such close proximity to Calgary, at least has a conversation surrounding masks," says Mayor Peter Brown.
"It's challenging to understand how elected officials are making decisions on public health. It shouldn't be in the political realm; it should be with the (medical) experts. That's my personal opinion."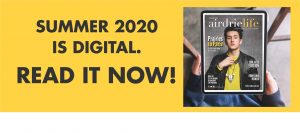 The City of Calgary mandated mask wearing in indoor areas and public vehicles on July 20, which includes public transit, public vehicles for hire, public indoor spaces and City facilities.
Rather than implement a mask bylaw at this time, council directed staff to prepare a bylaw that will be implemented if the city's number of cases rise. This bylaw would be put into effect if Airdrie reaches an 'enhanced status' with Alberta Health Services (AHS).
According to the Council Meeting Agenda Report, "enhanced launch status" is defined by the following description: "Risk levels require enhanced public health measures to control the spread, which are informed by local context."
Airdrie Region is currently designated by the Province as Open status, the level of the least risk that is defined by the description:
Low level of risk
No additional restrictions in place
Less than 50 active cases per 100,000 population
However, the current situation in Airdrie shows the number of cases is rising. As of July 26, the number of active cases in Airdrie was 22 (with 75 total since the pandemic started and 53 recovered), resulting in 31.4 active cases per 100,000.
Councillor Tina Petrow agrees with Brown that the decision should be made at the regional level.
"I'm a little taken aback that Calgary didn't reach out to regional partners about the decision they were making as it actively impacts all of us… and I would much rather see this decision made at a regional level because I think whatever happens in Calgary, will have an impact on all of the surrounding municipalities," she says.
According to the AHS website, Albertans are encouraged to wear non-medical masks in public when it's difficult to maintain physical distancing of two metres at all times.
The Province indicates that "wearing a homemade or non-medical mask is another tool to prevent the spread of COVID-19. It hasn't been proven that masks protect the person wearing it, but it can help protect people from being exposed to your germs."
Councillor Ron Chapman said he feels everyone should be wearing masks, but he doesn't feel a municipal governments should be the ones to make that decision "unless it gets to extreme circumstances."
"At this time, I don't feel that mandatory implementation of mask is really needed," he says.
Councillor Kelly Hegg says health issues have been important to Airdrie council for the more than 10 years he has been a councillor and councillors have voted on a number of health-related issues, such as a no smoking bylaw, bringing urgent care to the community, 24-hour urgent care and more.
"Health is important to us as community leaders. We are not experts in it, but we are listeners," says Councillor Kelly Hegg.
"What we can do is give people parameters in our bylaws and change it down the road if we need to."
According to the council report, the City of Airdrie received more than 312 emails from local residents and business owners regarding the bylaw and 173 were in favour and 139 were opposed.
"This is an unprecedented time requiring unprecedented decision making," says Brown.
"Thank you to our residents, businesses and everyone for sharing your passionate opinions and engaging with us on this important topic."
According to a City press release, council considered:
public feedback
the number of cases currently in the city
the impacts to residents and businesses
what other municipalities are doing in the region
a number of other considerations when making their decision.
The motion was carried by a unanimous vote. A proposed bylaw will come back before Airdrie City Council for review at the next regular meeting on Aug. 17.
stacie@forgmediainc.ca