Like many other charities, the Airdrie Food Bank has had to cancel a number of fundraisers due to the COVID-19 pandemic, causing a shortage in items for their Christmas hampers.
The organization has decided to collect the rest of the needed items through a festive, fun and safe initiative.
The "Stocking up for the Holidays" Mayor's Drive-Thru Food Drive will run from 10 am to 3 pm on Dec.13.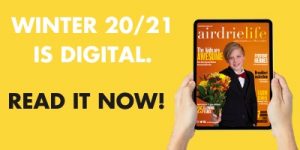 Residents will be asked to stay in their cars and volunteers will gather donations and "spread a little cheer."
Christine Taylor, communications manager of the Airdrie Food Bank, says the cancellation of the Shamrock Shimmy and the City-Wide Food Drive has resulted in the collection of 33,000 pounds less food than last year, causing the board members to get creative when thinking up a collection method.
"The effect Covid-19 has had on the Airdrie Food Bank is tremendous," she says.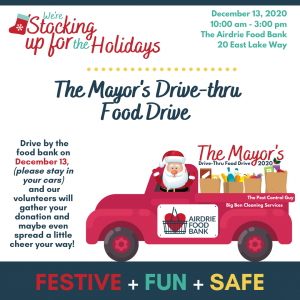 She adds that the pandemic has also resulted in the food bank's busiest fall of record and she expects December to be the same.
She says since they have made it known in the community that they are in need this holiday season, Airdrie residents have stepped up.
"Our community has responded to our call for food and has helped in a big way, and we have confidence we will be able to provide our clients hampers at Christmas," Taylor says.
"Our current needs change quickly, but our most needed list can be found on our website (and in the photo above). We can't stress enough that our community's support is much appreciated."
She adds that the food bank tries to include the "Christmas" dinner experience in hampers during December. Things that maybe be included are breakfast items like syrup and pancake mix, holiday treats and a full Christmas dinner including a turkey or ham, stuffing, potato, dessert etc.
The food bank has moved to a contactless delivery of hampers and have had to adjust their day-to-day operations to keep in line with Alberta Health Services (AHS) guidelines.
Taylor adds that if residents are not comfortable attending the Mayor's Drive, cash donations are always welcome.
"We are encouraging those who wish to donate funds to go to our website instead of coming into the food bank to keep in line with current AHS protocols and for the safety of our donors, clients, staff and volunteers," she says.
For more information on the fundraising event or to donate, click here.
stacie@frogmediainc.ca