The Supplies 4 Success program has helped ensure that students from low-income families in Airdrie and North Rocky View have what they require to succeed in school for the past 18 years.
The program is a partnership between Community Links and Staples with the goal of ensuring all students in the community start the school year with a backpack full of necessary school supplies.
"We know that this has been a challenging year for everyone in our community and we recognize that the need for this program for the 2020-21 school year will likely exceed the previous years," says Carmen McCarty, Airdrie Community Links community support worker.
"The goal of this year's program is to raise $11,000, which will enable up to 350 local kids to start the school year off right."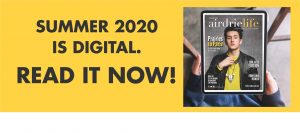 Local businesses are doing their part to step up to the challenge of helping children in need.
Davis Chevrolet and Airdrie Dodge will be donating $10 per car sold in the month of August towards this program.
In order to make the program a success, McCarty and her team are asking for the community's help to raise funds and money, which will be used to purchase binders, paper, pens/pencils, calculators, rulers and more.
Here's how you can help:
Monetary donations are being accepted at Staples in Airdrie (505 Main St.).
Donations of new backpacks for students in Kindergarten to Grade 12 can be dropped off at any of the following locations and are being accepted until Aug. 14:

Airdrie Dodge (139 East Lake Crescent NE)
Community Links (211 –125 Main St. NW)
Davis Chevrolet (149 East Lake Crescent NE)
If someone is in need of a backpack and supplies, they can visit Community Links on the distribution dates of Aug. 20 and 21 during regular business hours or The Boys and Club on Aug. 22 at The Center (200 East Lake Crescent) from 10 am to 12 pm.
If you are interested in learning more about how you can help or if you would like more information on how to participate in the program, please contact Community Links at 403-945-3900.
stacie@frogmediainc.ca