This year's Airdrie Farmers Market has more full-time vendors and food trucks than they have ever featured before with more than 80 businesses taking part and food trucks every week.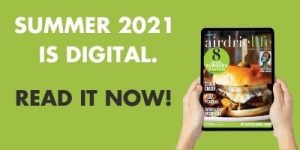 "On top of those full-time vendors, we have many drop-in and part-time vendors who will also be joining us," says Candice Kolson, manager of the Airdrie Farmers Market.
"The selection of vendors will vary week to week, and no two weeks are ever the same as far as our pop-up part timers go."
She adds that the 2020 market was very small as many people were reluctant to request space and shop during the early months of the pandemic.
"(As the summer went on), it became clear that farmers markets were going to be one of the few places that vendors, food trucks, and even non-profit organizations could get in front of people," Kolson says.
"We were able to grow more towards the middle/end of the market, but it was probably one of our smaller years."
She adds that they will not be fencing the market this year as they were required to last year by Alberta Health Services, saying this will allow there to be less crowding and line ups.
Social distancing will still be required, as will masks for as long as grocery stores are requiring them.
The Airdrie Farmers Market runs from 3:30 pm to 7 pm every Wednesday from June to October at the Plainsmen Arena in The Village. The market covers the parking lot of the arena as well as the adjacent baseball field and Jensen Park.
Kolson says some of the market's most popular stalls include fresh produce from Alberta and BC, vinegars, jams, food items like perogies and pie, craft beer and wine, honey, fresh-cut flowers, soaps and much more.
"They can expect us to be there rain or shine… every single week," says Kolson.
"We are there in the good weather times and the bad. Bring out your umbrellas or put on your rubber boots if the weather looks iffy.  Bring your sunscreen and flip flops when it's a scorcher because we will be there!"
For the first time, the market will be hosting a minimum of six food trucks each week. Three of those will be the same each week with Kona Ice, Caffeinated Squirrel and Mini Donuts and three to four "supper-ready to-order" food trucks will be added to the lineup. Those trucks will rotate from week-to-week and will include local food trucks like Smokey Peaks and All in the Family.
"All the trucks are put into a schedule, and we try to have variety each week for example: one burger truck, one chicken truck, one fry truck, one Italian truck to satisfy all those picky eaters in one spot," says Kolson.
She asks for residents to please be patient with parking around the area and to try to walk to the site if at all possible.
"Please come out and enjoy what we have to offer," she adds.
"For many of these businesses, farmers markets are their sole income. For many new vendors, markets are a new way for them to generate some revenue after a really hard year and a way to rebuild their customer base and business."
For more information, click here.
stacie@frogmediainc.ca