Stephen's Backpacks Society is finding a unique way to raise money to get school supplies in the hands of children who need them.
The Society has been operating in Airdrie since 2006 when Stephen McPhee, then five, decided that he wanted to collect backpacks filled with supplies for children in need.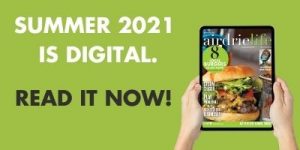 The charity has grown with McPhee, who is now 20, and their latest venture involves selling hand-crafted cutting boards to raise money for the backpacks and supplies.
"Stephen has wanted to develop his carpentry skills more since he was given the privilege of being chosen by McKee Homes to take part in their Building Futures program through George McDougall High School in his Grade 10 year," says Nancy, McPhee's mother and the director of the Society.
"He wanted to mentor other youth with autism to give them the same opportunity he had with carpentry skills."
She adds that she turned her garage into a workshop equipped with all the tools he would need in 2018 and he decided to call that part of his charity The A Team.
When the COVID-19 pandemic hit, McPhee was not able to mentor other youth, but he still wanted to make something special to help fund his charity.
"People of Airdrie have been so supportive of Stephen and his passion to help children in need," says Nancy.
"For every board sold, a child receives a backpack filled with school supplies, so this is a gift that pays it forward to a child in need. One board equals one backpack."
Stephen's Backpacks A Team has created the custom boards made with the highest quality of hardwoods. Every board has been uniquely designed with Stephen's incredible attention to detail, finished with organic mineral oil, polished with beeswax and can be personalized with an engraved message with calligraphy or font of your choice.
The Society has been selling the cutting boards, barbecue platters and charcuterie boards since the beginning of April and they are available on the Stephen's Backpacks Society website as well as Pharmasave, The Meatery, Pet's Liquor and Your Local Ranch.
"In these very difficult times with the pandemic all charities need to be more creative to raise funds. We feel there is no better way than to use Stephen's skills to make this happen," says Nancy.
"In just a few weeks, over 20 children have backpacks."
For more information or to purchase a cutting board, click here.
stacie@frogmediainc.ca