As one of Alberta's top home builders for more than 35 years, Excel Homes knows a thing or two about keeping their customers happy – and a big part of that is their attention to detail, especially when it comes to the design extras that make a house a home.
To help them maintain the 'Excel advantage,' the company utilizes the professional services of experts in several areas of the home building process, including interior designer Ashley Dolph of Designer's Edge. Dolph, the designer of record for Excel's Fleetwood showhome in Cobbletsone Creek in southwest Airdrie, tells us how she came up with the unique look for this home.
"As designers, we are always fascinated by the creativity this industry has to offer, as well as the ability to inspire and be inspired by so many different elements that surround us. The Fleetwood in Cobblestone Creek is just one of many examples that prove being inspired by your surroundings can turn a vision into reality.
"When you step into this home you are first welcomed by the neutral colour palette, including soft white, pale sage greens and light airy beiges. This palette helps set the tone for the entire home, ensuring that as you walk through you are comforted by the calmness that comes from each colour. In saying that, incorporating natural tones doesn't only have to happen through colours; it can also be accomplished through textures and patterns. We found that pairing and layering these two elements worked to our advantage in different spaces of the home."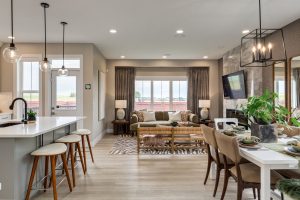 One big element that we continuously run through each space of the Fleetwood is the use of foliage. Although plants are naturally for the outdoors, they also have amazing benefits when implemented in a home. The presence of interior plants can help reduce the feelings of stress and anxiety, as well as facilitate the ideals of healthy living – and we can't complain about their ability to brighten up a space with their array of vibrant colours!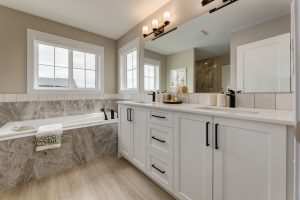 Luxurious marble tile surrounding the ensuite bathtub has paired with the neutral vinyl floor planks we implemented within the house.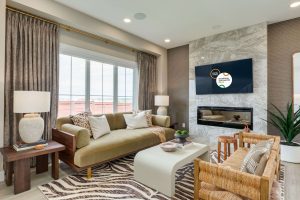 You will find animal print rugs and furniture made of rattan, with pampas-inspired wallpaper, all accented with gold trim accessories.