When Avi Amir first started Avi Construction back in 1978, he had no idea his fledgling company would grow from a single home on Elbow Drive into one of Alberta's top home builders.
Fast forward to today and Avi's son, Charron Ungar, is at the helm of Homes by Avi, including their multi-family division, Avi Urban. It's fair to say Charron grew up in the business, officially joining the company as an estimator in 1997 and graduating to the role of CEO in 2018 when former CEO Monte Kendall retired and joined the board of directors as vice chairman alongside Avi.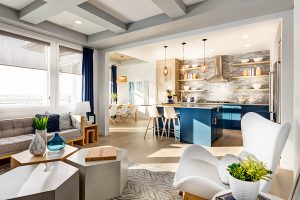 Like many builders, Homes by Avi has experienced many changes over the years, evolving and adapting to consumer demands in the marketplace, including adding a multi-family division and moving into new markets like Edmonton and Austin, Texas, as well as outlying communities around Calgary, such as Cochrane and Airdrie.
In fact, Homes by Avi has been building quality homes in Airdrie since opening their first showhome in Cooper's Crossing way back in 2006. The Princeton was a 2,337-square-foot, three-bedroom, two-storey single-family home featuring – as was the design fashion at the time – a formal dining room, large ensuite, bonus room, lots of tile and a grand entryway. And the builder has been in Airdrie ever since.
These days, the company is active in the final phase of King's Heights with semi-detached and front-attached homes, as well as pre-selling semi-detached homes in the brand new community of Lanark Landing. Showhomes are open on Kingsmere Way and Kingfisher Crescent, with price points starting in the low $300,000s for semi-detached homes and low $400,000s for front drive homes. New showhomes in Lanark Landing are scheduled to open in early spring 2020.
There are eight semi-detached homes ranging from 1,300-1,600 square feet currently underway in King's Heights, with another nine lots still available – although probably not for long, say sales staff, as showhome foot traffic has definitely picked up recently.
As for the local new home market, "it's very flat at the moment," says Doug Beach, Homes by Avi's vice president of single-family sales for Alberta. "With interest rates, construction costs and margins as low as they are currently we are seeing people take advantage of the opportunity to get into a new home. We would expect with the existing opportunities out there that we'll see an upswing in the near future."
Especially in a city like Airdrie, where housing prices are $20,000 to $40,000 lower than in Calgary and neighbours still say hello to each other when they pass on the street.