"When you're selecting your window treatments consider your priorities as well as the style of the room you're working with"
Window treatments are integral to the beauty of any space. Whether the view outside the window is spectacular or you want to hide it, window treatments can be the finishing touch or a subtle distraction. They allow you to control the amount of light, privacy and even control the temperature. I'm sharing four of my favourite window treatment options currently on trend.
Roller shades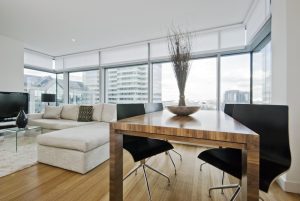 These have made a comeback in recent years, but with a whole lot of style and a much higher quality. They're great for a contemporary room where you want a sleek and simple way to block the sun and create privacy. I especially love the linen-looking fabric roller shades. Also available in roller shades are solar shades, which can block defined amounts of heat and UV (90-98 per cent) while still maintaining some view. These are very common on farms, acreages or commercial locations.
Shutters
I have a special place in my heart for shutters. They just have an old-world charm that I love. I have them throughout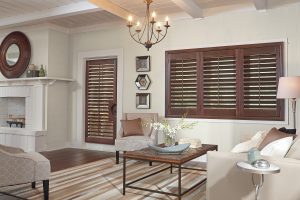 my own house and love how functional they are with loads of style. My favourite feature was being able to customize which group of shutters moves in unison, so I can allow light to come in on the top third of my kitchen windows, and have privacy from the green space behind our home on the bottom third. The bonus is that shutters are considered one of the few window treatments that will increase the value of your home. Shutters are the most timeless option and are also so easy to clean and maintain.
Wood blinds (2")
This is just a classic and cost-effective option. They're functional, simple and give any room a clean finished look. The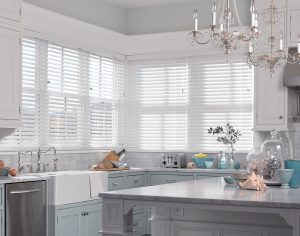 best way to pick your finish is to match the trim of your window. They're also perfect for pairing with my last pick. (These are ideal for anyone who loves the idea of controlling the light by tilting their slatted shades, but wants a more modern look than the old 1" aluminum mini blinds.)
Drapery-and-blind combo
This doesn't work in every room, but drapery offers such a nice soft finish to the window. It allows you to add pattern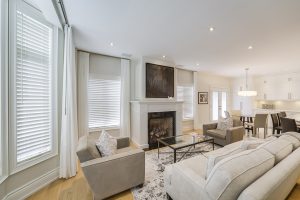 whether you prefer subtle or bold. Draperies also allow an additional layer of room-darkening options. The softness and depth of drapes will instantly change any room in a huge way. They absorb sound, provide a feeling of coziness and class, and simply make any room feel complete and amazing instantly! If you have never had drapes they are a must for decorating living/dining and bedrooms.
When you're selecting your window treatments consider your priorities as well as the style of the room you're working with. It is a good idea to consult with an expert that understands the treatments available and the pros and cons of each. Every room is so different and unique and needs to be treated that way. Almost all window treatments have a list of choices to be made so you can further customize to your space, functionality and lifestyle. Happy shopping!
Decorator Kim Purvis, owner of Aurora Decor, is pursuing her lifelong passion of creating beautiful home spaces
All photos courtesy of Budget Blinds Airdrie
Cutlines:
2" white wood blinds from Springs Window Fashions
2" faux wood blinds from Enlightened Style and single-pleat drapery from Vadain International
A modern white roller shade from Mera Window Fashions
A wood shutter from Norman Window Fashions