Winter in Airdrie is a tasty affair. Our TASTEairdrie partners have delicious reasons for you to get off the couch and into a great dining experience – plus follow us on social media for weekly gift-card giveaways, dining-out incentives and the return of chocolate in February!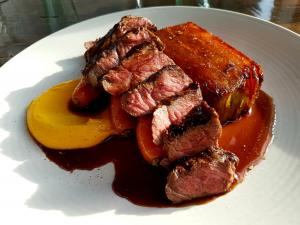 Hayloft's menu will continue to feature hyper-local ingredients: bison from HGB Ranch (Olds), ducks and chickens from Heart Rock Ranch (Carstairs), beef from Your Local Ranch (Airdrie), lamb from Lochend Dorpers Farm (Cochrane), pork from Blue Mountain Biodynamic Farms (Carstairs) and Bear and the Flower (Irricana), and cheese from Dancing Goats Farm (Acme). Prepare to be wowed by chef Jason Barton-Browne's creations using local flavours.   
Share the warmth of Good Earth Coffeehouse with their new holiday drinks! Treat yourself to our Gingerbread Caffe Latte that's topped with a delicious ginger cookie crumble. Espresso, real eggnog, and a dash of nutmeg creates our delightful Caramel Pecan Eggnog Latte. Flat white lovers – be prepared to indulge in our Caramel Pecan Flat White, with a perfect hint of caramel pecan that's not too sweet. 
Like shortbread? Avenue Cakery and Bakeshoppe features more than 15 flavours for the upcoming holidays. Gingerbread cake, cupcakes and cookies and the hugely popular eggnog cookies are also back for Christmas parties. (Just a reminder the bakery is closed Dec. 24 to Jan 7 – boy do they ever need the break after all that baking!) and they return to start prepping again to keep our sweet tooths satisfied. (Stay tuned for Valentine's confections to melt everyone's heart!)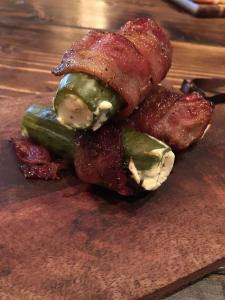 Sorso has the 'something-for-everyone' menu to enhance the palate. Using the freshest local and ethically sourced  ingredients there are options for everyone and every occasion. Sorso (Italian: to sip) is famous for their wide variety of beverages.  Everything from classic cocktails and new innovative cocktails, exceptional coffee- and espresso-based beverages, trending local craft beers and an extensively unique wine list. Whether you're looking for an intimate date night or a family friendly atmosphere, Sorso welcomes all! Check out their daily food and drink specials or drop in to enjoy some live music. Sorso is embedded in the Airdrie community and is very active in supporting and promoting a variety of local charities. Check out their website to learn more. 
Fitzsimmons Brewery is celebrating their first "Year of Beer" and as a result they are releasing an Anniversar Saison which uses elements from all the beers they have brewed since opening – expect a light spicy and citrus finish. In December look for their new Belgium Dubbel a traditional Abbey Ale style beer – very malt forward and high in alcohol. Come January enjoy the Cascadian Dark Ale – dark brown in colour with a light hoppy finish. 
Over at First & Vine expect Chef Mike to continue the magic in the kitchen – the daily take on flatbreads is always a culinary treat. Over the winter months warm your palate with Ed's truffle honey fries, roasted squash hummus, duck fat potatoes with chile aioli, French onion cheese fondue, lamb sirloin, AAA Alberta beef sirloin or their famous PEI mussels with roasted red peppers.   
10 + REASONS TO COME IN FROM THE COLD 
All winter: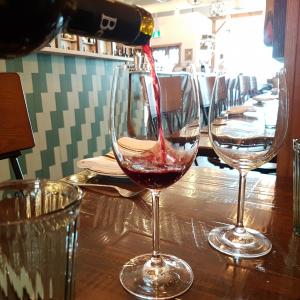 Wine Wednesdays -1/2price bottles at First & Vine and at Hayloft, or mix and match Wine Flights for $15  at Sorso 
$10 flatbreads -Thursdays at Hayloft and Fridays at Sorso 
PLUS Live music every Saturday night at Sorso. 
December: 
Receive a FREE LATTE when you purchase a $25 gift card from Good Earth Coffeehouse in Creekside Crossing, Airdrie until Dec. 31, 2018. Treat yourself and a loved one this year with this delicious perk from Good Earth Coffeehouse this Holiday Season.  
Grab a Beer Advent Calendar for $159 – 20 beers from Fitzsimmons Brewing Co. and a few extra surprises to add up to 24 days before Christmas! 
January:

Hayloft's Butcher Baker and Preserve Maker Board with two glasses of wine for only $35 
FREE 3-oz growler with the purchase of two flights at Fitzsimmons Brewing Co. (Two flights of minimum 3 X 5ozs) One per customer. Does not include the growler fill.  
February:

Chocolate Crème Brulee and Hayloft Chocolate Martinis 
Sorso's spicy Cayan Mocha hot chocolate  
Fitzsimmons Brewing Co Dry Irish Stout paired with Skyfyre Bakery chocolate baked goods. 
PLUS – check our social feeds every week for the latest specials, incentives and giveaways @tasteairdrie and @airdrielife