Airdrie artist Gareth Worrall loves wide-open Alberta landscapes; the mountains, the lakes and the wind-swept vistas, but that's not really why he paints them.
"It's a big stress relief," he says. "I can just basically turn off my mind and focus on what I'm doing, and think about nothing else except what's right in front of me."
Worrall, who moved from Calgary to Airdrie with his wife more than five years ago, is a bicycle mechanic at Cranked. He used to work for WestJet.
"I was working there for quite a few years, but unfortunately due to COVID, quite a few of us were laid off."
With his job in limbo, he says he began to explore what else he might be interested in doing. Oil painting was something he had done on and off for more than two decades, so he wondered if his art might be a possible career opportunity.
His father was a painter who enjoyed doing caricatures, he explains, adding that the television artist Bob Ross was a household staple growing up.
Worrall had already begun investing time in his artwork after the move to Airdrie. He was in a few art shows and joined the Airdrie Art Society; he also had a few commissions, provided two colouring contest drawings for Airdrie Parades for Canada Day, and was involved in the Voice & Vision Collaboration project.
However, with the uncertainty around his job, he took serious steps toward becoming a working artist, further developing his painting skills and trying new ideas. He was never rehired, so, "I've been reinventing myself, basically, since then."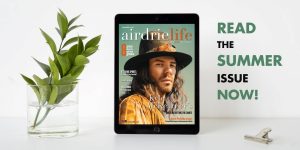 Once he has an idea, he says, it usually takes him just a few days to complete it, though once in a while he'll spend a week working on a piece. He doesn't have a traditional studio, preferring instead to work in his garage.
"I like being in open spaces, but when it gets really cold, I move indoors to the basement."
It's the big skies and majestic mountains that inspire Worrall. He and his wife travel frequently to Cochrane, Banff and Jasper.
"They're just beautiful areas, and kind of where I get my inspiration from."
He takes photos, uploads them to his iPad, and then lets his imagination play with the elements in the images, developing them into his own vision.
"I might reference a couple of photos, but generally, I just look at a blank canvas and I see exactly how I want it to turn out."
He paints only with oil and sometimes uses a palette knife for texture to create landscapes that are uniquely from his mind. Vibrant with colour, his skillful use of light brings mountains, forests and lakes to life. This interplay of light and colour adds a remarkable sense of dynamic motion to his landscapes. Some of these works, such as Mount Rundle and The Three Sisters, have a fantasy-like quality, as if the viewer has been transported to an alternate universe that is similar to our own, but you're certain a mythical dragon could appear at any moment.
Worrall sells his work online and is hoping to get into some smaller galleries, but insists his main focus is to enjoy himself.
"I don't want to get to the point where it feels like a job. Like I said, it's relaxing for me."
He plans to keep developing his skills, but, as he has learned, the future is not always certain.
"That's the thing about art; you just don't know where it'll take you. I'm just going to continue doing what I'm doing."