Featured Image: Serenity by Jenn Rasmussen
The fourth annual Voice and Vision Collaboration (VVC) paired 15 artists and 15 writers, to collaborate in creating new works of writing and art, inspired by each others' work.  Each partnership consists of two pieces of writing and two pieces of art.  The writing is poetry or prose.  The art submitted includes sculpture, paintings and mixed medium pieces. 60 pieces from this years VVC will be on display in the Airdrie Public Library during November 2019. 
 Check out some of the featured creator's bios and see the pieces they created for VVC. 
---
Verone Solilo
Based in Airdrie since 2016, Verone paints in an Expressionist/Impressionist style for the most part, although sometimes it is close to realism as well.  For each piece she does a lot of research and uses a combination of photos, study paintings and my imagination.  Verone works with the same pallet of select colours for every piece, which makes her work recognizable and will give them a unified look. She uses professional grade heavy body acrylic paints, brushes, pallet knives and sometimes her fingers.
Because Verone is inspired by her own observations of the nature and our beautiful earth, the Voice and Vision project has been more challenging to be inspired by a literary composition instead. But she loves to push herself to do so, because stepping outside her comfort zone is how she grows as a person and an artist.
Verone recognizes that there are numerous talented artists in Airdrie, and she would really love for the City of Airdrie to incorporate an Art Gallery in the Airdrie Public Library as other cities have done. This would be a great venue for all artists to be showcased and also for the general public to learn more about all the different types of art in our community that enrich our lives.
Victorian Row by Verone Solilo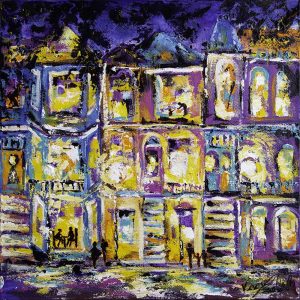 Shane's written piece called William was written in response to Verone Solilo's Victorian Row
Shane Kroetsch
Are you Airdrie based? – Yes.
Artist Style/Genre – I write fiction, mostly introspective or strange.
Please describe your process in creating your piece – I found the image of the row house striking. I immediately envisioned writing a piece for each room, and then picking the one I liked the best to submit for my response. After researching the history of late 19th century Toronto the story of a single character developed, so I ran with it.
What was the most challenging aspect of this project? – The most challenging aspect wasn't what I expected it to be. I started with the thought that I would make this a larger piece, and then use a section out of it for my response. Unfortunately, the section to be used was flat on its own. With feedback from the other members of the Airdrie Writer's Group, I removed some details and expanded on what was already there so I could set the scene overall, but at the same time focus in on this single moment in time.
What is your vision for arts in Airdrie? – In my experience, the arts community in Airdrie is very open and inclusive, I would want that to continue and expand. People should know that no matter what they would like to do (paint, draw, sculpt, write, etc.) that there are opportunities to connect with like-minded individuals and grow their craft right in their home town
William by Shane Kroetsch
William rocked forward in his seat as the horse's footfalls slowed and the streetcar came to a stop. He lowered himself down to the dirt road and waited. When the streetcar pulled away, he shuffled across Yonge Street and headed east along Upper Gerrard.
With the noise and confusion far behind him, William slowed his pace. He focused on the rows of narrow brick houses. Some had their curtains drawn, others let in what dreary daylight was available. One had the window glass on the main level pushed open, letting the smell of cooking vegetables waft down the street.
William left the sidewalk and limped up to one of the brown painted doors. He leaned a hand against the frame and looked to the window beside. An old woman sat in a plain chair with a pressed wood back. She worked two knitting needles in slow and precise movements. William faced forward and lifted a key from his pocket. He set it in the lock, turned it, and pushed the door open.
He stopped in the doorway of the parlour and removed his hat. His landlady set her knitting on her lap and looked up over the frames of her glasses.
"Good afternoon, Mr. Doyle."
"Good afternoon, Mrs. Summerhayes."
"I trust your journey was successful?"
"Yes, Ma'am."
"Your leg acting up again?"
"Yes, Ma'am."
Mrs. Summerhayes pursed her lips and returned to her task. William turned, reached out for the banister, and eased himself down the stairs to his room.
---
Valerie Holmes
Are you Airdrie based? – Yes
Artist Style/Genre – Abstract
Please describe your process in creating your piece- I take flowers from my garden or straight out of nature, when walking on hikes in the mountains. I then press each flower petal and wait for the to dry.I start laying each petal intricately, as I layer the petals I start to see something come out of them and that's how I create my pieces. I choose different colours of acrylic paint to match the mood of the petals.
What was the most challenging aspect of this project?- The most challenging aspect of this project is that it is my first piece I have done since my surgery on both hands and being told I have permanent nerve damage and numbness in both hands.  My challenge is working through the pain and frustration that comes with having once steady hand to the shaking that comes with the permanent damage from carpal tunnel syndrome. Laying each petal in a perfect and precise manner has become difficult and takes a bit longer, but my loving passion for art and creating has been what keeps me going.
What is your vision for arts in Airdrie?- I believe Art can brighten up someone's day, it brings colour and a creative sparkle to the community. Art has a way of bringing people together with many different opinions and cultures, but in someway we can all relate and appreciate the process which bring a positive vision all can share.
Petals Amidst Emotion by Valerie Holmes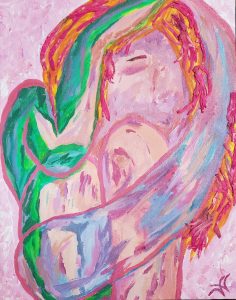 Jen Atkin's written piece Cradle is in response to Valerie Holmes Petals Amidst Emotion
Jen Atkin
Are you Airdrie based? -Yes, for over 20 years.
Artist Style/Genre – Poetry, short stories, fiction and a one-act play.
Please describe your process in creating your piece – For a poem, generally, I'm inspired by something I see or hear.  I often get ideas while walking outside, just letting my thoughts run.
Then I put pen to paper and see where that idea takes me.  In the last few years, I've started to edit my poems more than I used to because I've realized the first draft isn't always the best.  However, sometimes I'll go back to the first draft and take another look if I feel the main point or feeling of the poem was lost during editing.
What was the most challenging aspect of this project?- I find that writing my response piece is always harder than writing my initial piece. I want to capture something about my partner's art and to describe how it makes me think or feel a certain way. I try to respect what the artwork is about, without tying my written response too strictly to the artist's description about the piece and/or the artist's process. In my view, the Voice and Vision project is about responding to, not simply reflecting, what your partner created.
What is your vision for arts in Airdrie?- It would be great to see Airdrie become known as a "creative hub" in Alberta and I think it's well on its way. People in Airdrie seem to value art to want to include it, in its various forms, in many community events. It's always great to hear about a new art-related initiative whether from City Hall, the Airdrie Public Library or from groups of artists, musicians, actors and writers. For example, it's exciting to hear that the winning poems in the library's poetry contest will be displayed inside Airdrie buses after the contest. I also love how enthusiastic Airdrie students clearly are about their art, drama and music.  Hopefully, they feel encouraged by other artists in the City.
Cradle by Jen Atkin
My child, I cradle you
As you first breathe air,
In, then out, that's it…
Your forehead fits my cheek.
So many months we've toiled
Together, you and I, growing –
Now, the last sprint is won: rest,
Rest against my beating heart.
When we were one, you nestled,
Safe, within my womb,
I sang you songs, told stories
Of how the world would be.
My body's cradle rocked you,
Though you often leapt while I lay still,
As if to say: "Let's dance,
The night is young," while I sought dreams.
When you are grown, I'll will recall
How love enveloped you,
As you grew beneath my ribs,
My belly: talisman for strangers.
My chin resting on my knees,
Your father cradling my shoulders,
We waited, longing for one more
To make our happiness increase.
---
Tandy Balson
My proccess/inspiration for the response writing came from something the artist mentioned. Her abstract painting was beautiful but she told me the original painting was something she wasn't happy with so had painted over it. What we saw was the result of starting over.  The idea of what might have been underneath appealed to me and that became the foundation for writing this piece.
The most challenging aspect of this project is creating a work that is both inspired by what I experience in the art and honours the artist and their creation.
This collaboration between artists and writers is a beautiful representation of two art forms complimenting each other. I would like to see more support for projects of this kind. My vision also includes exhibition spaces for our local artists. We have many talented people in our city and support and encouragement for their work is important.
From a distance by Tandy Balson
In the distance, I see the vibrant yellow of canola fields. The beauty is breathtaking as the sunshine flowers contrast against the azure sky and verdant green of nearby trees.
From a distance, this blanket of bright colour appears solid. The picture changes as I move closer. There are variations in shading and more green stalks than yellow flowers. The flowers are quite small and not the showy blooms I'd imagined. The plants are still lovely; they just are not as I'd envisioned them.
Surprise and disappointment are felt when I realize the perfect picture I'd seen from a distance is not the reality upon closer examination.
Oh, how this brought other memories to mind. I don't know about you, but I have looked with envy at the vibrant life someone else had and wished mine could be as beautiful.
In reality, I have only seen the tip of their life, the part that can be observed from a distance. Up close, the picture is different.
No one has a perfect life. Struggles and challenges affect each of us. When I put on a mask to convince you all is well in my life, you have no reason to doubt me. You only see the picture I choose to show you.
It is only when I allow you to have a closer look that you can see we are not so different after all. We are all perfectly imperfect and showing that is what makes us beautiful.
Cindy Zampa painted Down the Road and Around the Corner (two parts) in response to Tandy Balson's "From a distance"
Cindy Zampa
Are you Airdrie based?- Yes, I live in Airdrie, Alberta.
Artist Style/Genre- I am a contemporary visual artist, painting primarily with acrylics and inks. Always curious and willing to try new techniques, my style ranges from realistic to abstract. In all my work, however, I intend to capture and show the beauty of nature or the world, as I see it. I like to depict whimsical and unlikely subjects just as much as I do the natural, raw side of life.
Please describe your process in creating your piece- The first two sentences of "From a Distance" immediately painted a picture for me. As I read further and realized the deeper meaning of her writing, several things came to mind that I wished to incorporate into my response piece. First was the idea that things may appear perfect from a distance, yet upon closer inspection the flaws or imperfections are noticeable. Then, the idea of masks that we wear to cover up our imperfections really resonated with me. I wanted to convey everything at once – the pretty picture of a vibrant yellow canola field set against azure blue skies and verdant green trees – as well as the raw side of life with all the daily grind happening. I had many ideas surface, and tried out quite a few before finally deciding to use both sides of the canvas, similar to the way one might imagine a mask. There is the 'face' of the canvas, on which a pleasing picture is usually presented. Then, on the other side – the side one rarely sees because it is against the wall and hidden from view – is the raw underbelly of life. Beautiful canola fields can be seen when driving down many roads all over Alberta, and I painted this first, on the front of the canvas. On the other side of the canvas I inserted a collaged image of what might be seen just down the road or around the corner from that beautiful canola field – a farm house with someone doing chores, laundry hanging on the line, an old vehicle that needs repairing, cows that need tending…. These are the things that lie behind the growth of that beautiful canola
What was the most challenging aspect of this project?- Reigning in the variety of ideas this piece of writing evoked for me was the most challenging part of this project.
What is your vision for arts in Airdrie?- In serving on the Airdrie Regional Arts board as the Community Arts Director, I have interacted with many artists and businesses in Airdrie. We are a city that is teeming with talented artists, and we also have many businesses who support artists by inviting them in to display their art.
In my grand vision for arts in Airdrie, I see all types of artists, (not just visual artists, but all fields of artistry such as musicians, actors, writers…) speaking up clearly and confidently about what is ideally needed for their group to grow. I also envision city staff, businesses and residents listening to each other, cooperating, collaborating, and energized to put best practices into place for a thriving, equitable and healthy art community. Too lofty? An illusion, or delusion, you say? Maybe. But you did ask about my vision, and one can only hope….
Down the Road and Around the Corner by Cindy Zampa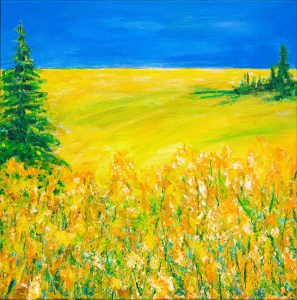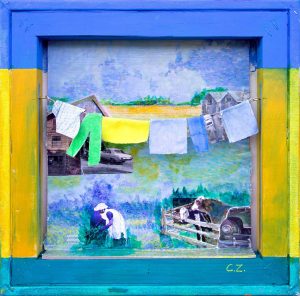 ---
Deborah Lawton
Are you Airdrie based?- Yes, I live in the SE community of Thorburn Medows.
Artist Style/Genre- Primarily I'm a Sculptor but I'm also a Mixed Media artist. I work in both 2D & 3D it all depends on what best suits my vision of the art piece.
Please describe your process in creating your piece- I start by reading the poem several times to get to know it better. Then I wait for images to come to me. Sometimes this can be immediately, sometimes it can take a few weeks. When I being to see these images I do rough sketches to have them more concretely in front of me. I then determine whether the piece is most impactful as a 2D(Drawing, painting) or 3D( sculpture or Relief). Once I've decided I begin the process of being the piece to life. If a drawing, I research my images, have someone pose for me or take my own photographs. Then I determine which medium best suits the feel/emotion of the piece. That can be pencil, coloured pencil, chalk, pastel, acrylic paint or watercolour, collage or mixed media. I then spend days working on the piece. I will leave it for a few hours or a day and then come back with 'fresh eyes' so I can see what needs continued work. Sometimes I will start over again but that doesn't happen all that often. Usually that happens because I haven't spend enough time really 'getting to know' the piece before I've began.
If the piece is a sculpture there are weeks of building, casting, painting, polishing and adding to the piece. Since I work in many mediums each type requires it's own process.
When I feel the piece is done I bring it into my home and live with it for awhile. That way I can see it in different light and judge whether it needs some tweaking.
What was the most challenging aspect of this project?- The most challenging part of this project was deciding wether to do a 2D piece or a sculpture. Each method has its pros and cons. I eventually settled on a drawing on black paper because I wanted to convey more of the dark, sober mood that is in the poem.
What is your vision for arts in Airdrie?- For years I've wanted to establish a art centre in Airdrie similar to ArtSpace in Canmore. I've taught art for over 30yrs in Calgary and surrounding areas. As of last year I was hired by the City of Airdrie to teach out of Bert Church Theatre. There are two visual arts instructors and one drama instructor so the program has a good beginning. Finding a space or having one built is the big thing. I'd love if Canada Post would allow us to use the old post office downtown. It's a perfect central location and a great size. There another long story attached to this location. I strongly believe a healthy, vibrant community is deserving of a central place for people of all ages to come and explore the life long skill of creating art.
Inner Workings by Deborah Lawton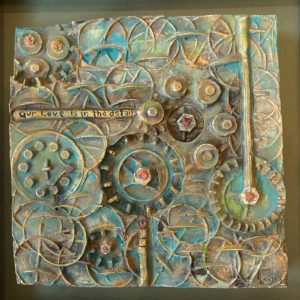 Rayna wrote Our Love is in the Details in response to Deborah Lawson's mixed media
Rayna Gunvaldsen
Are you Airdrie based? – Yes, Airdrie based
Artist Style/Genre – Writer/poetry
Please describe your process in creating your piece – I have a slightly different process in creating the initial piece versus the response piece. For the initial, I try to focus on creating a piece with colours or images that I think might be interesting for an artist to work with. With the response piece I try to take a visual that moves me from the work and use that as the inspiration. If the artist shares their intent or the story behind the piece, it is important to me to attempt to honour that while still being authentic to my work and creation. In either case, I tend to allow the images to hold space in my subconscious for weeks before sitting down to write, hoping that it will open my mind to inspiration over time. This is probably just procrastination, but eventually I buckle down and just start writing. Sometimes it comes out basically finished, and sometimes I make notes, do research, and write version upon version before something speaks to me.
What was the most challenging aspect of this project? – I think the response is the most challenging (and rewarding) part. To try to honour someone else's vision while keeping your voice authentic certainly stretches my artistic comfort zone .
What is your vision for arts in Airdrie? – I was recently asked if Airdrie was as "devoid of culture as it seems." My hope for the beautiful, vibrant, supportive, brilliant, arts community that exists here is that we get to a place through promotion and persistence where no one thinks to ask that question again.
Our Love is in the Details by Rayna Gunvaldsen
A feeling wouldn't stay
So I searched for solid love
Something I could touch
Something I could name
Our love is…
Where?
In morning coffee brewed,
Or gifts to touch my heart?
Kind words gently spoken,
Or kisses in the dark?
Each time I thought I'd found it
I'd hold it to the light
And like dew it turned to mist
Leaving only memory behind.
I thought it wasn't real
If I couldn't show it off
But love is not a sculpture finished
Its created each day or lost
We share a North Star shining
Our paths converged to seek
A journey to the mountaintop
A fellow traveller through the deep
An offered hand in silence
If one stumbles in the rain
Arguments at crossroads
When one has lost their way
We sometimes walk apart
And the chasm feels so wide
But even when we seem divided
We're always within sight.
Our love is in the details
Of committing to this road
We create this path together
Though we'll summit all alone
---
Sharon Christie
Are you Airdrie based?- I have lived in Airdrie for the last 38 years
Artist Style/Genre- I write poetry and nonfiction pieces
Please describe your process in creating your piece- My pieces this time are about anxiety. I wanted to create some poems that would help those who don't understand anxiety to a greater understanding of what someone with it is going through.
What was the most challenging aspect of this project?-  Usually, the most challenging part of this project is writing to a deadline as I work fulltime and have been taking classes in my spare time.
What is your vision for arts in Airdrie?-  Airdrie has a unique writing community. We support one another in progressing in our art regardless of experience or level of writing.
Worn Down by Sharon Christie    
 Birds fill my chest 
                                Frantic to escape 
                                                                Beating my ribs 
I fear I will fall 
                 My throat clogged with feathers,  
Unable to call for help. 
My stomach burns, 
                                Roiling lava 
On the verge of eruption, 
                                Obliterating  life. 
Leaving  
                Dense, dark stone 
                                                 Filling my belly. 
I breathe deeply, 
                                Swallowing air, 
                Letting the birds fly, 
                                                  Freely 
Releasing them,  
                 From caged breast. 
Each bird  slowly 
                              Finding its way free, 
                                              Soaring in an autumn sky. 
I visualise  
                  Waves   
                                 meeting obsidian stones 
                  Smoothing,  
                                   Wearing them  down 
Leaving a beach of black sand 
                  Where I can bask 
                                                    in the warmth of the sun.  
Kaleigh Kanary painted in response to Worn Down by Sharon Christie
Kaleigh Kanary
Are you Airdrie based?- Calgary, AB
Artist Style/Genre- Mixed media (water colour, charcoal, acrylic) , style is called trash polka
Please describe your process in creating your piece- I was given a beautiful poem about how it feels to have anxiety. I didn't want to do a literal interpretation of the piece, so I chose to go more abstract. I pulled from my own experience with anxiety and wove in some imagery I got from my partner's written work.
What was the most challenging aspect of this project?- Coming up with something that's representative of the work we're given, but still express our own interpretation.
What is your vision for arts in Airdrie?- I'm just starting to become involved in the arts community in Airdrie, and I hope to continue to see more projects like this in the future.
Release by Kaleigh Kanary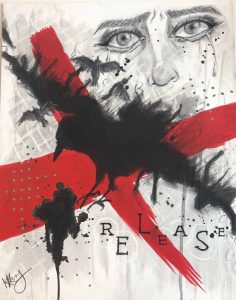 ---
Shirin K. Yamolky
Are you Airdrie based?- I am based out of Carstairs, Alberta.
Artist Style/Genre- Oil painter
Please describe your process in creating your piece- I spend a lot of time studying my subjects before I begin any painting. In this case working with a writer has been an incredible experience for me this being my second year.
I usually visualized what the writers read as they read I can picture what the painting will look like. It's like seeing into their minds as they describe and read the story. The more emotion they put into it the more detailed my paintings get. It is challenging but it helps me coming up with a unique painting that tells a story.
What is your vision for arts in Airdrie?- My vision for the arts in Airdrie and in general Alberta. Is to have galleries that support emerging artists and promoting their work across the province.
The Afghan Girl by Shirin K. Yamolky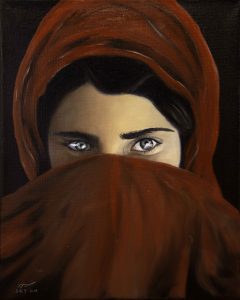 Kali Birks
Are you Airdrie based?- I am Airdrie based although I am a Eurasian Australian who married Canadian and got my citizenship last year.
Artist Style/Genre- I am a pros writer. Mostly fantasy and travel, although I've been told my travel stuff is all really romance.
Please describe your process in creating your piece- The first piece is a fictionalized autobiography, which is all my travel stuff. based on my own experiences.  The response piece is from a set of characters from a fantasy novel I am working on.
What was the most challenging aspect of this project?- The most challenging part for me is having my work presented vocally for the first time. I've never really read my work out for others before. I'm very nervous about our final gala.
What is your vision for arts in Airdrie?- I think Airdrie is a very creative society. I am a freelance photographer/ video producer and I am discovering more and more clients right here in Airdrie. A very creative community. I love this chance to collaborate and meet so many talented people.
Kali Birks wrote Eyes of Memory in response to Shirin K. Yamolky's The Afghan Girl
Eyes of Memory by Kali Birks
Alvara entered the tent. It was small and sparse, just a scattering of bright cushions and woven rugs to mask the harsh desert earth.
A solo figure draped in red turned as Alvara entered. The rich silks hid the face of a woman, only her dark hair and eyes were visible.
Alvara met her gaze and the world fell away.
The woman's eyes contained the expanse of the universe, as when one turns upward to the night heavens to behold unnumbered pinholes of light. Blue as the fresh water sea, grey as the flooding storms and so deep one couldn't see where the colours really began.
Emotions swirled. Infinite. Overlapping. Alvara was brought to recall a spinning web of her life, the now into the then, sinking her all the way back to her mother's womb where the breath of life had been given her.
Still further the visions conjured themselves revealing her parents and then their parents, back through her lineage to unnamed ancestors. The joys, the trials, the choices, the actions and consequences of their lives.
Alvara was swept along the overwhelming journey of times past and yet now being relived by her in the present.
The woman blinked.
Alvara, thrust back to the moment, swayed. Her eyes were wet with tears. Even the air felt unbearably heavy on her senses after seemingly having been detached from her body for an eternity.
So this is what is was to meet the memory of the world.
---
Melissa Bruglemans-Labelle
Finder's Keepers by Melissa Bruglemas-Labelle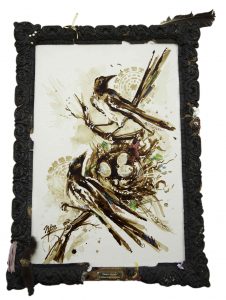 Margaret Hanna
Are you Airdrie based?- Yes, I have lived here for 12 years.
 Artist Style/Genre- I write mostly historical fiction about the homestead era of the prairies, although I also write bits and pieces of whatever else crosses my mind, some of it serious, some of it off the wall. I like the challenge of writing sonnets — a story contained in 3 quatrains and a couplet — although William Shakespeare doesn't have to worry about the competition.
Please describe your process in creating your piece- The inspiration for my first V&V piece came from a weekly challenge from the Carrot Ranch web site: to use the phrase, or some variation thereof, "Beggars can't be choosers." I don't know where the image of an abused wife came from; it just appeared and then it was on paper. Even the approach of writing it as almost entirely dialogue sprung forth like that. That happens sometimes. I did do some editing, and the Airdrie writers group provided some good feedback that helped improve it.
As for my response piece to Melissa's delightful painting: When Melissa and I were paired that night in May, I first intended to write a serious piece about being distracted by bright shiny objects (I did eventually). But by the time I got home that night, the magpies had mysteriously acquired the names Madge and Mitch, and with names like that, how can you be serious? The question became: what are they talking about? Writing this was such fun, and entirely different in tone from my first submission. I giggled all the way through the writing.
What was the most challenging aspect of this project?- For once, neither my first piece nor my response piece provided much challenge as to content. The only question was: can I keep them under the limit of 250 words?
What is your vision for arts in Airdrie?- A dedicated art gallery (maybe a component of the new library?); more news about arts in the local papers (why do sports get an entire section but art does not?); murals depicting Airdrie's history (there's not much left to show that Airdrie has been around for over 100 years); a good independent book store where authors can read/sell their works and where artists can hang/sell their work.
Margaret Hanna wrote Best Dressed Nest in response to Melissa's bird painting
Best Dressed Nest by Margaret Hanna
"How does it look, Mitch? Do you think three pieces of Mojo wrapper is too fussy?" 
 "No, not at all, Madge, they nicely complement the origami paper. You were right about eliminating the feather. It is just so . . . brown! Now, a goldfinch's feather would be perfect. I regret not getting one of those Tanagers' feathers when they were passing though last year." 
 "Yes, but look at those Swarowski crystals, you've arranged them so well, they really set off the curve of the nest." 
 "Now if only we could work in those buttons, then we could say we had the competition all buttoned up. Ha, Ha, Ha! 
 "Oh Mitch, you're such a card. By the way, I heard Sid is one of the judges this year." 
 "Sid? The sparrow from the apple tree? Ya gotta be kidding. What does he know about interior design? He thinks a bit of shredded plastic is haute couture." 
 "Yah, I know, you'd think they'd get someone more knowledgeable. At least Jay and Woody are on the panel. They know quality. Just be thankful that old Loon isn't on the panel again." 
 "You're right, Madge. Look, the judges are leaving the Redbreasts. We're next." 
 "Wait! What's that cracking noise? Oh no! One of the eggs is hatching! No, not now! That will mess everything up!" 
 "Quick, Madge. Sit on the eggs and look nonchalant. Here, wrap this fur around your neck. That'll distract them. Oh, hello judges, come on in. May I give you the tour?" 
Evie's Choice by Margaret Hanna
"Evie, how many times has this happened? You have to leave him before it's too late."
"I can't, Mom."
"You mean, you won't."
"No, I can't! I have to stay for the kids."
"Evie, take them with you. Go!"
"Oh sure, easy for you to say. Remember what happened last time? He beat me up, broke my jaw, threatened to take the kids away. It's easier to stay. Besides, I love him. And he loves me."
"Loving you means beating you up? Really, Evie."
"Well, he does. He always apologizes afterward. Besides, it's my fault. I do things that make him mad and then he loses his temper . . ." Evie shrugged.
"That's his problem, not yours. Go to a woman's shelter. You'll be safe there."
"There's no such thing as a safe house, not from him."
Evie's sleeve slipped up as she drank the dark bitter coffee. Mona saw fresh marks.
"You're using, aren't you? Aren't you!"
Evie slammed her cup on the table."So what if I am? What's it to you, anyway. Leave me alone, it's none of your business."
Mona clasped her daughter's hand. "Leave him. Please! I beg you!"
Evie yanked her hand away and stood up. "No, I can't. I'll be fine. Good-bye. And don't try to call."
She stormed out the kitchen door, slamming it behind her.
"Oh please, dear God!" Mona stared at the door, then buried her head in her hands and wept.
That was the last time Mona saw her daughter – alive.
Are you Airdrie based?- Yes, I Live in Airdrie.
Artist Style/Genre- Coffee painting/Mixed media. I use actual coffee in different strengths as my medium along with old paper, wrappers, gold leafing, stones/crystals, and other found objects to create depth, color and thought in my subject matter.
Please describe your process in creating your piece- My work as of late tends to lean towards vintage pieces of rice or cotton paper and found/discarded objects along with the warmth of liquid coffee as my painting medium. The use of this particular medium is to help the viewer feel connected to the past and present, to help bring about comfort and conversation along with fascination and interest in the piece itself. The use of paper and other mixed media is a way for me to also bring in color and depth into the painting and subject matter.
What was the most challenging aspect of this project?- 
The short story or conversational scene I had received was quite a heavy subject matter to paint. In fact, I believe I had "randomly picked" the weightiest written piece in the Voice and Vision Project this year. The fact that it was passed over by one other artist due to its theme is a perfect example of its difficulty. 'Evie's Choice' By Margaret G. Hanna is about Domestic Violence.
I've never really painted that particular the subject before. I really wanted this piece to be moving and not over done with clutter and poor representation to the subject matter. I didn't wish my image to be repetitive, to mimic any other artists pieces (who have painted about abuse in the past) nor do I wish to anger or upset those who have paved the way to awareness to such violence. I don't wish to just "throw anything together" with carless disregard but rather do so with respect and gentleness. It is also my fear that I may get backlash from the public and some viewers should my work be misinterpreted in some way and I of course not my intention to do so for this is merely my vision of the work I was so graciously given.
These challenges, thoughts and feelings I have about this work is the main reason why I have hesitated dozens of times to lay my paint…or rather coffee…to paper and even begin/finish my response piece.
What is your vision for arts in Airdrie?- : My vision is for everyone to share openness, understanding, support and love not just to those who create art but to those who appreciate art too.
Evie's Choice by Melissa Bruglemas-Labelle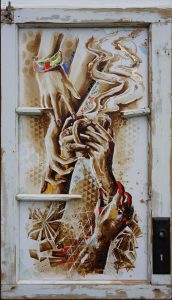 ---
 Cheryl Reiss
Are you Airdrie based?- Yes
Artist Style/Genre- Rock Art (Images on Plaques, Frames and on Rocks)
Please describe your process in creating your piece- I think of events happening in the lives of people I know and then create emotional images to describe these events. I also design pieces that inspire and motivate me to continue on my own journey with sports and discovery of Alberta
What was the most challenging aspect of this project?- Sitting in front of a thousand rocks, sticks, glass and wood and selecting the exact pieces that will accurately and fluidly fit on the style that suits the emotion design.
What is your vision for arts in Airdrie?- I am new to Airdrie (I have lived here less than a year). I think the Voice and Vision project is a terrific outlet for writers and artists to display their ideas. I have never heard of anything quite like this idea and am thrilled to have been chosen to participate. More projects like this would be a terrific outlet for many other artists and writers so it is something I would like to see be created in the future.
The Explorer by Cheryl Reiss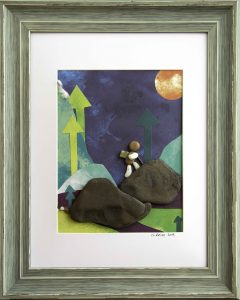 Sheila Humphrey
Are you Airdrie based?- I am a long time Calgary resident.  My children were born here, but I'm a stubble jumper by birth.  My sister still lives in Saskatoon, Saskatchewan, where I grew up.
Artist Style/Genre- I write poetry, fiction, plays and scripts.  My poetry is generally free verse and usually more lyric than narrative.  I have written seven unpublished novels.  The first six are a series called "The Adventures of Bucket and Arthur".  The seventh novel is the beginning of another series.  The first in this is called "Second Sight".  Unlike the first novels, the last one departs from reality and enters more into the realm of science fantasy.
Please describe your process in creating your piece- Key to the process is familiarity with the artwork.  Not only the subject matter but the media used have an impact on many different levels.  Colours, textures, shapes and composition, all play on creative sensibilities.  When writing a short piece it helps to just let the words flow.  Over a few months three responses were written in reaction to Cheryl's artwork, only one will be chosen for the event.  However, I'll be happy to share the other two stories with her.
What was the most challenging aspect of this project?- This is the fourth Voice and Vision project I have been involved with, and the challenge has not changed—finding your own truth through the artist's vision…to make an authentic response…to honour the artist's work.
What is your vision for arts in Airdrie?- As a smaller community Airdrie can sponsor more collaborative projects such as Voice and Vision.  The only limit is our imagination!  The writing group has been so encouraging although it is an eclectic mix of published and unpublished scribblers.  Perhaps the secret of its success is in that very eclecticism!
The Adventurer Takes Stock by Sheila Humphrey
My hiking boots feel heavier now than they did four hours ago.  How is that possible?  Are my sweating feet adding to the weight?  Perhaps if I stopped, took off my socks and wrung them out would that make a difference?  Could I get everything back on at this steep incline?  And would I feel like going on after stopping?
Forget it.
I can't get rid of my trusty walking stick either!  Hand made by Grandpa.  No way it's leaving my side.
The best idea is to chuck my backpack—that's where I'm really sweating—it feels like it's glued to my back.  I wonder if this is how the Hunchback of Notre Dame felt like—a constant weight on his shoulders, never to be lifted.  Or how about Atlas, with the whole world on his shoulders?
All I have to do is take it off—could do it in a second too!  But would I find it on the way back?  And what about the water, camera and sketchbook inside?  And the chocolate bar?  Don't wanna lose that.  Not happening.
Oh no, another switchback!  I'm not gonna take any shortcuts this time.  Nope.  Just stay on this trail and get me to the top.
I remember what gramps used to say,
"Step left, step right, breathe, repeat."