Searching for the lucky seven on the roulette wheel of emerging restaurants becomes an appetizing challenge in our growing metropolis.
With unique breakfast options, intercontinental cookery, and some all-time favourites like pizza and wings, Airdrie's expanding restaurant culture is up to the task of filling that incessant hunger.
Scouring our local neighbourhood eating establishments quickly takes on the flavour of far-off destinations and international foodstuff. From the streets on Tanzania, roadside bistros of Italy, East Indian curry shacks or even a breakfast nook in Manila, there's something for every taste bud.
Play your cards right and you may be dealt an unforgettable, captivating meal.
1.) Serengeti Shack
If you're looking for that "hakuna matata" easy-going style combined with an international food flare, Serengeti Shack is the destination.
This main Main street culinary nugget, opened in April, welcomes 50 diners with zebra-striped wallpaper and a huge menu of authentic Tanzanian fare, wines, beers and cocktails.
"We offer East African cuisine. It's mostly barbeques and a little bit of curries and staple foods from Tanzania," says owner Alex Moledina, who partners with wife, Grace Gabica.
Encouraged to eat with our hands, feeling the warmth and texture for a tactile connection between food and guest, we dove into a platter of BBQ skewers that included beef, chicken, lamb and shrimp.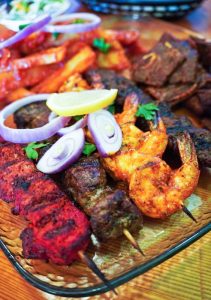 A platter fit for a carnivore king, or at the very least feeding two or three hungry people, this dish combines unique Zanzibar Island spices heavy on chillies, turmeric, cloves and many more. Indo-Chinese and East Indian flavours are also offered in several tasty curries.
A Mango shake, a worthy decadent dessert in a glass, was a sweet finish to cut through the heat and unique spice profiles.
Sal's Restaurant & Pizza, formerly Il Forno, continues to be a true restaurant destination for authentic pizza, pastas and high-class dining.
Opened under their new moniker in May, this Italian bistro cooks up genuine homestyle delights summoning a picturesque backdrop along the Naples shoreline while sharing a meal with a gracious local family.
"Our cuisine is different from other Italian restaurants. Ours is homemade. We're the original cuisine from Naples in south Italy, the same food we've been cooking for the past 43 years," says owner Sal Monna who has been serving Airdrie for over two decades with wife, and chef, Anna Maria.
"Everything is fresh, including the sauce which is made daily."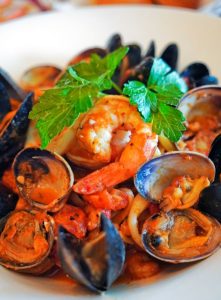 A perfect spot for a family meal or quiet date night, the Linguine Pescatore presents a large serving of tender pasta topped with shrimp, clams and oysters in the shell, and calamari. Straight out of Anna Maria's recipe book, this dish is a hit for anyone looking for a tasty, backyard gastronomic trip to Italy.
3.) Mana's Indian Cuisine
Gastronomy heaven can sometimes be found in the most unlikely locations.
A ghost kitchen serving out of 1861 Local Bar & Grill, Mana's Indian Cuisine offers a bona fide taste of mouth-watering Eastern delicacies.
Established in early summer of this year, diving into a taste of India was a natural progression for the Meadowbrook corner bar, says owner, Shawn Minhas.
"My main chef is from India and we brought another in," says Minhas of the location, heavy with a bar ambiance complete with pool table, televisions and upbeat music. "We have a very simple menu right now. It's very authentic, and straight from scratch."
The Daal Makni dish sits in a thick, cream base filled with tender lentils for a satisfyingly hearty bowl. For a little more spice, the chicken curry adds bold, savoury flavours with small chunks of vegetables, large pieces of chicken and a traditional gravy integrated with a depth of complex flavours.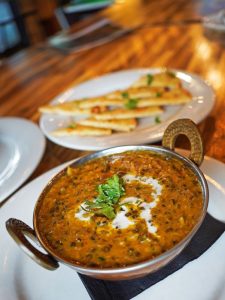 Miles away from tavern food, these dishes will give your metabolism a healthy kick in the pants. Not sure what to order? Their friendly staff will point you in the right culinary direction.
4.) Tahini's Mediterranean Restaurant
 There's fast food, then there's great food, fast.
Bringing authentic Middle eastern food to Airdrie since May, Tahini's Mediterranean Restaurant brings favourites like hummus, falafels, chicken, samosas, wraps and fusion bowls.
"We're offering Mediterranean cuisine called Shwarma, and part of that is dough bites made fresh every day," says owner, Prashant Pandya of the Yankee Valley location. "We do have milkshakes, virgin mojitos, pancakes on the dessert side, butter chicken and Jamaican jerk bowls."
The Shawn bowl, is a flavourful mix of half traditional Basmati yellow rice and half salad chock full of peppers, cucumber and romaine lettuce. A selection of options included a creamy, light and fluffy feta cheese, hummus, pickled turnip, red cabbage, red onions, spiced chicken and tahini all smothered in a Tzatziki and spicy garlic sauce.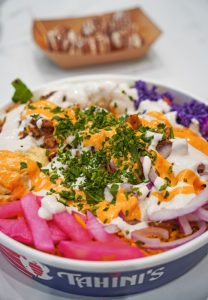 Eaters have a choice of five toppings – from a large list – with several proteins of chicken, gyro meat, falafel and even bacon.
A large bowl of fresh, healthy quality ingredients is enough to squash any nasty hunger pains.
5.) Jema's All Day Breakfast
This lutong bahay (home-cooking) gem of an eating establishment promotes some unique Filipino morning-meal flare.
Opening their doors in May, Jema's All Day Breakfast is not your typical North American early morning feast.
"We serve traditional breakfast like…tapsilog, meaning tapa (meat), rice and egg," says owner Lovela Amodia of the family-run business inside the Sagana Asian Market on Main Street.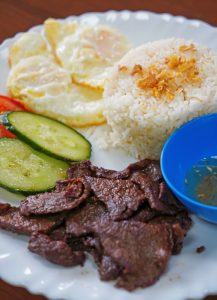 "All the meals have three components – the main dish is pork, beef, dried fish, hotdog, stuff like that. That's our traditional Filipino breakfast."
There are several menu options offered in the cozy, casual breakfast atmosphere which can accommodate up to 20 guests.
A mild rice with dried garlic flakes is accompanied by two fried eggs, portions of fried beef with a special acidic, yet sweet vinaigrette dipping sauce and tomato, cucumber palate cleanser.
For extra flavour, try the tocino sweetened pork strips, similar to candied bacon. Toast with hash browns is also offered in place of rice.
6.) The Vapiano Cucina Italian
From Germany to Airdrie may not seem the most direct route to European food delights but The Vapiano Cucina Italian restaurant is up for that appetizing road trip.
With plenty of experience on the European street-food scene, a trio of owners from Germany are serving up pizza, pasta, wraps, paninos and all the trimmings.
Wafts of fresh breads, spices and cheese welcome patrons to this petite bistro-style eatery – seating 10 people — with the spotlight on reasonably priced, great food.
"The food is a European-style street food between Italian and fusion," says part owner, Parm Uppal. "Our focus is making everything affordable to the public."
At Vapiano – loosely translated to a relaxed attitude and healthy life – the open kitchen concept outlet in Kingsview promotes fresh house-made sauces and pastas with plenty of customizable options.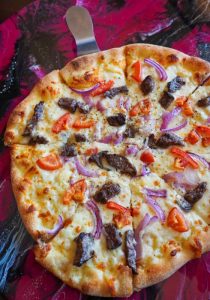 Fresh handmade crust, for a soft, chewy delight and cooked to a golden brown on the edges, is the foundation for a steak pizza complete with generous chunks of meat, red onions and fresh tomatoes along with a mild sauce and plenty of mozzarella cheese. A drizzle of garlic sauce put the finishing touches on this European-style fashioned pie.
7.) Wing'n it 
When you're traversing the many available dinner options, sometimes you just have to, well, Wing'n it.
This bright, inviting laidback establishment is embellished with televisions, propellers and airplane themed art.
"We're like a full-sized restaurant, but I have a pub culture as well," says Manager, Ankush Paneliya of the Stonegate establishment opened in February with room for 90 patrons including the patio.
Offering everything from soup to desserts, Wing'n it promotes 115 flavours of the popular chicken nibbles from dry rub, buttermilk and tongue-tingling Kamikaze hot.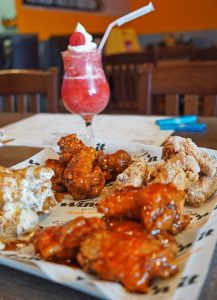 We quickly soared into a four-flavour wing platter with the Amelia Earhart (a Top Ten Flying Ace) honey garlic and roasted red pepper flavour, a dry crop dust'n garlic parmesan, the double ugly wings drenched in ranch with Mach 3 spice and a cool, creamy buttermilk dill.
Life may be too short to try all the flavours, but a few flybys will be a worthy dinner layover.