"All captive animals need environmental enrichment whether they live in a shelter, zoo, sanctuary or your home"
---
We all need enrichment in our lives. People of all ages, from babies to seniors, are always looking for new ways to make life interesting. Animals are no different.
Animals in the wild spend most of their time searching for food and avoiding predators, which provides most of the enrichment they need. For animals in our care, those activities are not a factor for survival, but the basic instincts that cause those behaviors are still present.
Enrichment increases the quality of life for animals in our care. Identifying and providing environmental stimuli for your pet will help reduce stress and promote overall health by increasing their perception of control over their environment and by occupying their time.
Techniques used to enrich an environment will generally fall into five categories: food-based enrichment, sensory enrichment (sight, smell, touch, hear, taste), novel objects, social enrichment and positive training.
All captive animals need environmental enrichment whether they live in a shelter, zoo, sanctuary or your home. The mental stimulation derived from the enrichment provides a challenge, alleviates boredom, and can also decrease the likelihood of the animals developing behavioral issues (such as scratching, excessive chewing and barking).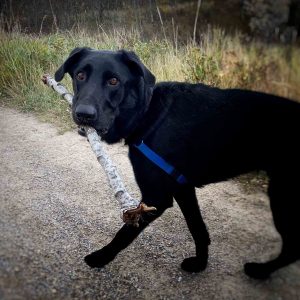 Look for activities that encourage or mimic these behaviors that are natural to your pets:
Food-based enrichment – hide some treats in a food dispensing toy so they can hunt and find it. This encourages chasing, catching and consuming behaviors.
Sensory enrichment – set up a perch near a window so that your cat can climb up and observe (sight, hear, smell) birds and squirrels at a strategically placed feeder.
Novel objects – offer your cat empty cardboard boxes or paper bags to climb on, around and through to explore.
Social enrichment – multi-pet households where the animals are in stable healthy relationships offer valuable opportunities to be social with their own species. If your dog enjoys playing with other dogs, set up playdates with his pals for some healthy fun.
Positive training – when it is fun, everyone likes to learn something new. Be sure sessions are not frustrating, and never use techniques that make your pet fearful. Check the Cochrane & Area Humane Society's website for upcoming seminars and training programs to help you learn the best techniques for training.
There are also so many enrichment items on the market for just about every pet, but allow yourself to get creative, too! Once you add in one or two of the above enrichment ideas or make some of your own, you will help to decrease the likelihood of behavior problems and keep your pets happy and stimulated.
Lisa Kedian recently settled in Cochrane, AB after living for four years in Canada's Great White North – Yellowknife, NWT. Originally from Ontario, Lisa now loves the close proximity to the beautiful Rockies and the wonderful opportunity to be a part of something bigger, which is helping the animals at the Cochrane & Area Humane Society find forever, loving homes.