"My goal is for this location to become a destination, where people can come to enjoy the food they were missing from back East"
---
A local couple is bringing the flavours of Montreal to Airdrie and local residents say the deli is a cut above.
Carolyn Clarke and Jacques Juteau opened Flavours of Montreal Bakery & Deli on Main Street in May. The unique restaurant is providing fresh and fast food in a colourful and inviting atmosphere that will almost have you convinced you've walked into a deli in Quebec.
"The support from the community has been overwhelming. I personally love it when I see the reaction from people when their food is delivered. The surprised look, the smile – it warms my heart," says Clarke, co-owner.
"We wanted to share what we love with the city. Airdrie is a wonderful community; the people are very supportive."
Warm welcome
Residents are not shy about their love for the establishment's unique dishes that include Montreal smoked meat, poutine, tourtiere and a sugar pie that is to die for.
"We just had the best dinner at Flavours of Montreal! The restaurant is super busy, which is great to see," says first-time customer Allison Skidmore.
"I love that you share a table with whoever is sitting here. That's so Montreal! The food was great, the staff was so friendly, and I can't wait to return for more of the delicious poutine."
Clarke says the fact the restaurant is a local "mom and pop shop" providing personalized service to each customer and quality ingredients at a reasonable price appeals to residents.
"I had a great lunch at Flavours of Montreal today. Whenever we come in, the staff is hard at work, cleaning tables instantly. It's great to see," says customer Erin Ruiters.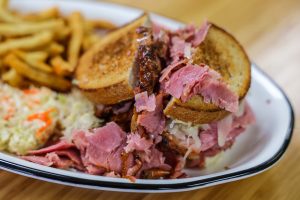 Exceptional experience
Juteau is a chef originally from Montreal who has owned restaurants since the age of 19. He and Clarke have a long history of operating eating establishments together. They opened Alberta King of Subs in Calgary in 1996 and operated White Sails Bakery in Nova Scotia from 2010 to 2015.
"My goal is for this location to become a destination, where people can come to enjoy the food they were missing from back East – smoked meat, tourtiere, spruce beer, creton, sugar pie…." says Juteau.
"I am very passionate about our food and concept."
Not surprisingly, the restaurant's most popular dish is the Montreal smoked meat, which melts in your mouth and pairs perfectly with fresh bread and a tangy mustard with the right amount of heat.
Juteau says he has been to many restaurants that claim to make Montreal smoked meat but "they are just not quite there."
"We do it right," he adds. "It's good-quality ingredients with just salt and pepper – not a ton of spices. Let the meat speak for itself and appreciate it."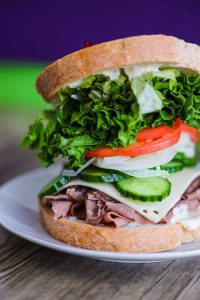 Best bakery
The bakery section of the restaurant is also impressive with fresh homemade items changing daily.
"Flavours of Montreal has a wonderful little bakery – servings are large and mostly everything they serve is made on site," says customer Noreen Hewko-Garon.
"The bakery shelf is so enticing; if you don't want lunch or dinner, you have to try the bakery. I took home a mini lemon meringue pie – that didn't last long! It was fresh off the baking tray. I will be back."
The homemade items in the bakery section change daily and include cakes, cupcakes, pies, eclairs, cheesecake and more.
Flavours of Montreal is open from 11 a.m. to 8 p.m. Tuesday through Sunday.
WIN one of 10 $10 gift cards to Flavours of Montreal when you follow us on social @airdrielifemag