Several small-batch craft breweries are quenching thirsts and turning the heads of local beer aficionados on what's being called Airdrie's Ale Trail.
These local entrepreneurs are combining cereals, barley, hop, yeast, malts and a plethora of flavours guaranteed to spread a cool, smooth satisfaction on a sweltering summer afternoon or steamy evening.
Tantalizingly tempting the taste buds, these breweries are pushing the boundaries of beer consumption by producing a range of light-coloured pilsners, interesting Indian pale ales, resonating reds and soothing stouts.
It's a beverage that's been enjoyed for thousands of years, all around the world, and we've got some of the best right here in Airdrie!
Atlas Brewing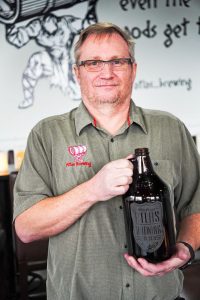 Chasing the ancient, deity-inspired beer essence, Master Brewer and COO Michael Phipps opened the doors to Atlas Brewing in 2021.
Transitioning from backyard fermented ales to larger pub production, Atlas produces small-batch beers between 400-830 litres averaging around 3,000 litres per month.
With 12 active taps, and seating for 100 patrons, Phipps is constantly offering a variety of brews.
"It's always nice to experiment and colour outside the lines a little bit and see what tastes good," says the brewmaster. "We've done 32, and I have 100 recipes that are ready. I try and keep everything appropriately seasonal as we can."
The first small sample was an almost transparent Talaria, a light, mellow ale with a slightly bitter aftertaste.
Next up, I imbibed of another Greek deity-inspired, extra special ale, Gardens of Gaia. Slightly darker and a tad bitter, hand-selected hops produced a bright almost citrus-like back-end.
Draugr's Treasure IPA upped the anti, using a unique malt/hops profile tasting of a golden-coloured, tropic-island sunset with a lingering sweet finish.
If that wasn't enough to please the beer gods, dessert came in the form of Aegir's Winter Stout. This Mexican hot chocolate stout is sneaky smooth and goes down easy but, at 11.6 per cent alcohol, will put you on top of Mount Olympus before you can say, "another pint please."
948 Brewing Company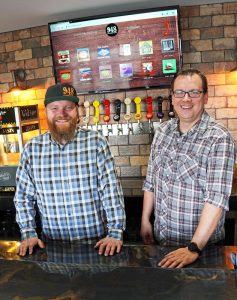 It took a decade for Dave Schroter and Kyle Wudrich to dial into their true passion, and the beverage-loving friends are now hitting all the right numbers with the 948  Brewing Company.
Both raised in Airdrie, the pair were searching for a local theme when creating their company and decided nothing said "Airdrie" more than the original Airdrie telephone prefix – 948. The dynamic duo have even collected the last payphone in Airdrie from HI HO Gas and Grocery to convert into taps at their Kingsview location.
Opening in 2020 – and closing three days later for pandemic protocols – the long-time local Airdrie brewmasters are putting out roughly 20,000 litres per year.
"We've probably made about 60 flavours and currently have about 30 different varieties in the fridge and have 12 on tap," says Schroter of their cozy brew house with room for about 20 patrons, plus slush and popcorn machines.
"The small batch brewing is why we can do so many flavours. We knew it was not necessarily efficient doing multiple small batches rather than one large of the same flavour, but we enjoy the variety. And the customers like it too."
Reminiscent of days gone by, the Patio Krusher Kolsch is a light-coloured German-style Pilsner with overtones of a sweet head and clear finish.
Wisecracking towards a slightly stronger IPA, No Joke produces a touch of biting sarcasm but makes up with a smooth finish and flavour for days.
The Rail Crossing red ale keeps you on track with some caramel tones and full-bodied caboose, while for a richer, more substantial beverage, the Chocolate and Coconut Porter resembles an after-dinner treat with ingredients good enough to eat with a spoon.
The Balzac Craft Brewing Company
When owner/operator Stewart Ward opened the Balzac Craft Brewing Company in 2019, his vision was to replicate a traditional British pub for his small-batch brewing outfit. Ward had lived in Great Britain and liked what he saw, and tasted.
"We didn't want to be a production brewer, with larger equipment and sending out product to the masses. So, we decided to become a brew pub," says Ward, who has 10 beers and two ciders on tap at their Cooper's Crossing location.
Producing over 50,000 litres per year, the pub focuses on traditional English-style ales steering away from overly hop-laden lagers.
"All of our beers are patron-tested. If they don't like it, we don't make it," added Ward who can accommodate between 100-125 people in the pub and patio during summer months.
Generating a deep, rich quality without a mongrel's sharp bite, The Dog's Bollocks British Brown Ale leads to a nutty, brown sugar back-end which lingers just long enough to produce that warm, fuzzy feeling you were hoping for.
Imagine spending an afternoon collecting a bucket of plump fruit, and then getting to drink the fermented finished product. The Sea Buckthorn IPA embraces a fulfilling unique taste profile only found at Balzac, without having to pick the fruit yourself. The health-conscious beer drinker may even benefit with a tad bit of vitamin C.
Supporting a dry, caramel finish, the Range Road Red Ale is a destination pleaser with slight bitter/sweet head.
At the end of the trail, replicating a hot summer days end, The Prairie Sunset brew starts with a citrus, bitter heat ending in a cool, smooth golden hour finish. The perfect end to any day.