Public art – think about it Art is subjective. It's meant to inspire, to challenge, to celebrate and to provoke thought and conversation.
Whether it's music, dance, painting, sculpting or any other art form, people's opinions on exactly what constitutes good art often differ – and that's okay. In fact, that's one of the best things about art.
In its official Public Art Policy, the City of Airdrie "recognizes that public art contributes to a healthy quality of life for its citizens. It promotes a vibrant environment to live in and helps establish a strong sense of community pride and ownership."
The document defines public art as "artistic creations or collaborations in any medium whether fixed or freestanding, permanent or temporary, within external or internal settings intended to be freely accessible to the general public," and lays out the process the City follows in the acquiring and acceptance of projects.
Unlike many municipalities, however, the City of Airdrie does not allocate a specific percentage of the annual operating budget to public art. Rather, they consider each proposed project on its own merits.
This summer saw the unveiling of three major public art projects in the newly restored totem poles in Nose Creek Park and the the Korean War Gapyeong Battle Victory Monument near the Cenotaph at the Town and Country Centre.
To read more about public art in Airdrie visit airdrielife.com/eat-play-stay/outdoor-art-in-the-city. Access an interactive public art map at airdrie.ca
Îethka Stoney Grandmother's Teachings
The City of Airdrie welcomed five donated "Îethka Stoney Grandmother's Teachings" sculptures at Nose Creek Regional Park in early July. The sculptures depict a setting in 1909, when Airdrie was established, with a grandmother sharing her traditional knowledge of local vegetation with her grandchildren. This artwork is a symbol to honour Indigenous peoples who have been in relationship with this land since time immemorial and continue to live in the City of Airdrie and its surrounding rural districts.
The concept of the sculptures was a collaborative effort between the donor, Elders and Knowledge Keepers and award-winning artists, Don and Shirley Begg, Studio West Bronze Foundry located in Cochrane, Alberta. Indigenous consultation refined many elements of this process, including the addition of the dog that typically accompanied women when gathering medicines, which can still be found today in Nose Creek Park.
There will be a dedication ceremony for this project upon its completion on Sept. 30, in conjunction with the National Day of Truth and Reconciliation.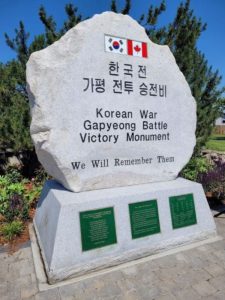 Korean War Gapyeong Battle Victory Monument
Unveiled in July, the monument commemorates the Battle of Gapyeong, where the 2nd Battalion of Princess Patricia's Canadian Light Infantry helped prevent what would have been a costly defeat in the Korean War. Gifted to the City of Airdrie by the Korean War Commemorative Committee and the Calgary Korean Association, it also celebrates the 60-year diplomatic relationship between Canada and Korea.
This is the fifth Gapyeong Monument built in Canada, with monuments currently installed in Langley, Winnipeg, Brampton and Niagara Falls. The stone for each of the monuments is mined and transported from regions in South Korea where key battles were fought during the war.
The monument is located near the Cenotaph at the Town and Country Centre.