"I really dug into how fun it was to build a business around the performing arts"
---
Airdrie's Henry White is one of those rare musicians who have been able to merge his creative side with the business savvy needed for longevity.
He calls this being a "creative entrepreneur."
"A lot of artists live in the belief that art just succeeds on its own, but the people we all look up to are actually very successful entrepreneurs."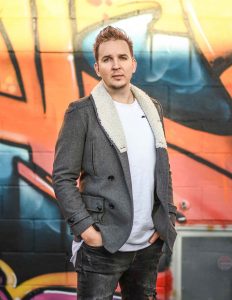 "That's the difference," he explains. "When you compare talent you find that there are a thousand jazz musicians you've never heard of that would school any of the popular ones."
It's about finding a balance between doing what is necessary to have a sustainable music career with what the creative side just wants to be free to do, he says. It's a formula White began to learn when the high school alternative rock band he helped create in 2001, Traced Image, shot to stardom in Western Canada. The band, which, was covered in the fall 2007 issue of airdrielife, recorded two albums, performed more than 150 shows with the likes of Trooper, Jars of Clay and Kutless, and was what set White on his current path.
"It got me into my love for high-energy stage performances and entrepreneurship," he recalls. "I really dug into how fun it was to build a business around the performing arts."
White, now 33, has made a living out of the business of being creative. He has co-ordinated major music events, done marketing consulting for artists, worked with design agencies, and routinely performs for Compassion Canada, a faith-based organization focused on ending child poverty. He also appears regularly in local venues from the Ironwood to Sorso.
Last summer was especially busy, with performances at Music in the Park, the Community Links family festival, and airdrieFEST. If that wasn't enough, White, who has lived most of his life in Airdrie, also became a new dad in June.
"It was a really great Airdrie summer," he laughs.
A skilled guitarist, songwriter, arranger and producer, White creates music that's a mix of rock and pop, with jazz overtones. His songs cover the many realities of modern life. For instance, a recent composition, Don't You Know Love, which he has recorded as a demo, is a respectful conversation about mental health.
The lyrics – "Life's not over, yet. Love is what it's made for. Love is real and you need real today" – are sung soulfully by White, backed by a simple electric guitar, with bass and drums.
Live Well, on the other hand, is a catchy and rocked-out reminder-to-self of his love of rock and roll.
"I try to be as intentional as possible in my songwriting, but in the end I write and play to my audience."
At the moment, White continues to merge art and business, creating original music for a future EP, while working to promote a friend's business.
"I would love to be a full-time creative entrepreneur," he says, "and some years I've done really well. But, I'm happy to be creative, wherever that leads."
Photo Credit: iStock