"

There is something about making bread the way it should be

"
Bread should be simple. 
That's the belief of the owners of SkyeFire Bakery, which opened on Main Street in March. 
"We care about your bread," says Scott Williams, owner. 
"We use traditional baking techniques, no additives and sourdough cultures, to get you that great product, every time." 
Williams says the benefits of natural baking include the fact that it is better for your health and results in a far superior taste over the commercial bread you buy at a grocery store. 
He says it is a common misconception that bread should stay fresh for a long time. Unlike many commercial brands, fresh bread made with natural ingredients should dry out and/or mould in less than a week, he adds. 
"We recommend that you eat it fresh and buy often," he says. 
"That's why we offer a variety of breads, buns and other baked goods for you to choose from. Stop in to our store for your daily bread, a cup of coffee and a scone, or check out our selection of local condiments, coffees and more!" 
The bakery also offers seasonal sandwiches and plans to expand to include a selection of cheeses, soups and other simple meals in the near future. 
Behind the bread 
Williams has more than 15 years' experience in bakeries and has also been a chef in a number of restaurants, including a stint in a high-end hotel in Victoria, B.C., where he cooked for members of the Trump family and a number of prime ministers. 
"I always knew that when I had my own place, it would be a bakery. There is something about making bread the way it should be," he says.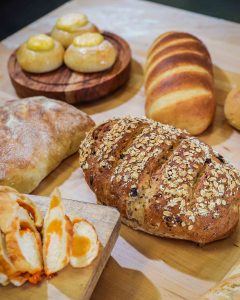 "It's an art and a science. It's biology, working with natural fermentation. Sour doughs, for instance, change every day. It is not an exact science, like baking sweet treats; it changes and grows. It's actually alive and that's fascinating." 
Williams' wife and co-owner of the bakery, Charmaine Laboucane, says along with his passion for bread, Williams is a stickler for authenticity. 
"If he is making a German pretzel, he wants to make sure that if you are German, you are going to love it." 
More than bread 
The bakery offers a variety of breads and buns, including rye breads, whole wheat and white breads, sourdoughs, pretzels, potato bread, baguettes and specialty breads. They also carry some sweeter treats, such as muffins, scones and cookies. 
"We make the sweet stuff to keep up with demand," says Williams. "People love their cookies and we make more than we ever thought we would." 
Although there have been a few bumps due to the construction on Main Street, Laboucane says they have seen a positive response from the community. 
"We do have a grander vision for what the shop could be, but we are happy with the way it has been going so far." 
She adds they are starting to see a number of regulars who come in for their daily coffee and those who are interested in the local items they sell in the front of house. 
"We love supporting local business. Whenever possible, we choose local ingredients and local products," Laboucane says. 
"We only sell what we use in our baked goods, so we know it's good quality." 
Some of the artisan items include honey, mustard, olive oil, coffee, teas and jams. 
"We want to buy from our neighbours, from people we trust," says Williams. 
"That way, we know what we are getting and it's building a sense of community."