It's great to be a kid in Airdrie!!! 
Airdrie's Children's Festival is back and expanded to two days in 2019! Join us in Nose Creek Park June 1 and 2 from 10 a.m. to 4 p.m. With so much to do and explore, it's a perfect, fun-filled weekend for the whole family. 
CHILDREN'S VILLAGE  
This is a play space designed to be grand in space and scope with especially unique activities. Known as the uber-fun playground!  
Featuring: 
Train Kiddie Striker 
Giraffe Kiddie Striker 
Sky Jump House Combo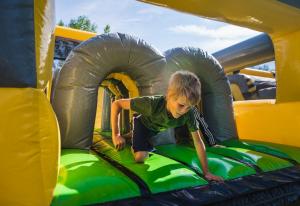 18' Super Slide 
Farm Toddler Combo 
Animal Kingdom Toddler Combo 
Western Obstacle Course 
Foam Pit with Bubble Machine 
Inspiration Stations 
Through the inspiration-station activities, we want kids to learn through a form of play, but we also want young people to see the leaders in these centres as role models, and think about future career possibilities. For example, a staff member from the zoo with small reptiles to share might inspire a dream of a degree in biology. A leader teaching landscape painting might raise the possibility of becoming a movie set designer. Our goal is to try to present high-level career opportunities with groups that typically may not be showcased. Watch the website for updates!  
Workshops 
Workshops will be intimate settings, run throughout the city during the festival. Sign up and attend whatever topics are of interest (last year featured traditional drumming, puppet making and signwriting). Topics, details, times and locations all still to come – watch the website for updates! 
ENTERTAINMENT STAGE 
Be prepared to giggle, clap, sing along and dance with our spectacular lineup! 
Saturday, June 1
11 a.m.Calgary Children's Choir
12 p.m.Smilin' Rylan
1:30 p.m.Bobs and LoLo
3 p.m.Peter Lenton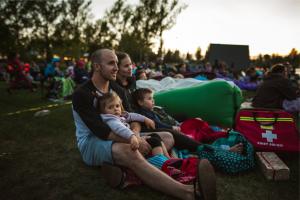 Sunday, June 2
11 a.m.Smilin' Rylan
12 p.m.James Jordan
1:30 p.m.Bobs and LoLo
3 p.m.Peter Lenton
About the Festival:  A Message from the Board 
We aim to enrich the lives of children and celebrate cultural differences of all kinds, ALL FOR FREE IN A FESTIVAL IN AIRDRIE. 
Our target is children aged four to 12, but we promote this as a family affair because we hope parents will engage their children in discussion after the event to further enhance the experience and learning opportunities. We also hope that older children will engage by getting involved as volunteers. 
Our Purpose 
It's not enough to just provide information to our children and expect them to process that into something spectacular. It is incumbent on us to create opportunities for them to have fun but to learn in the process. It is equally important, in order for us to thrive as a community, that we embrace our cultural differences. In many instances our struggles are caused by a simple lack of knowledge, folklore or urban legend. 
Our goal is to create a curiosity, ignite a passion, break down a barrier, remove a fear … all by giving our children the chance to see and do things they may not otherwise. 
Who We Are 
A group of local Airdrians noticed a gap in our community with respect to learning opportunities for kids (outside of their everyday schooling) that would inspire them to reach for great things and encourage them to be curious and creative.  We saw other cities had these opportunities and we wanted this for Airdrie, too. We wanted to see an event that allowed for inclusion of others who might not ordinarily get involved. 
Thus, the Airdrie Children's Festival Society was founded. On May 26, 2018, our event featured five distinct fun and learning components – the Children's Village, an interactive fun and play area; the Inspiration Stations, interactive learning centres; main-stage entertainment featuring professional children's entertainers and some local talent; city-wide workshops; and to finish off the day, an outdoor family movie.  
Our board of directors are all residents of Airdrie and active, and a few are parents. We all love our community and wanted to see an organization and event that we could all be proud of for children – one that would inspire our children to be curious and encourage them to aspire to greater things! 
The Airdrie Children's Festival Society holds the vision for the festival, and all decisions are made to create the best event possible. 
Get Involved 
It's not about us, it's about the kids! If that's how you live your life day to day, then there is a good chance we have a place for you somewhere with the society or the festival. Whether it's assisting in the Children's Village on the day of the festival, helping organize another event, making contact with sponsors, or even being a gopher when we need it, there's a volunteer name tag ready to have your name on it. Contact us today to get involved: airdriechildrensfest.com 
Sponsorship Opportunities 
One hundred percent of all money provided to the society goes to honouring our commitment to enriching the lives of children and celebrating our cultural diversity. We use a very small amount to cover our annual insurance, web hosting costs and some minor office expenses but the rest goes directly to putting on our annual festival. 
Thanks to the generosity of local businesses, the 2018 event was free for everyone to attend. While we can't promise this will always be the case, we really desire the event to be accessible to everyone. And the best way to do that is to have the event free, or close to it. 
Many hands make light work. Contact us to learn how you can sponsor a piece of this festival. Become one of our amazing sponsors today!