WOW! What an amazing night we had! We celebrated the 2022 Amazing Airdrie Women Awards in style at the Bert Church Theatre April 28 with gourmet pastries, prosecco and live jazz music.
We presented 10 awards from a stellar group of 51 nominees. Check out the photos below and read on for thoughts from our 2022 recipients! Special thanks to our amazing sponsors for making the evening possible!
Know an amazing women who should be nominated next? Go here to nominate her today!
First & Main Amazing Legacy: Hien Le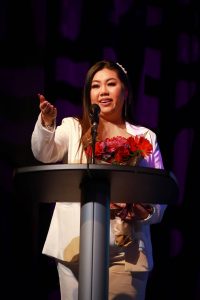 Wow, what an incredible evening. First and foremost, I would like to thank Sherry and everyone at Airdrie life magazine. Thank you for this opportunity, I am forever grateful for this moment. There was so much I wanted to say last night, but tears flooded my eyes, happy tears of course. As I glanced down at my mom and my oldest son Josh, I knew in that moment that I did something right, as a mom, and as a daughter. My mom has showed and taught me what love is, love isn't just within humans, it's in everything we do in life. As I wipe the tears from eyes and my vision was clear again, I looked up and I saw all these people on their feet, clapping and cheering. I can't even express the gratitude I have for every single one of you. As I'm writing this I'm balling my eyes out. I am truly honoured, there were so many women that made last night so beautiful, I am so thankful to cross paths with each and every one of them. Thank you to all my customers that have made these 22 years incredible. Congratulations to all the recipients.
Cream Amazing Determination: Jaadaas Jagwaa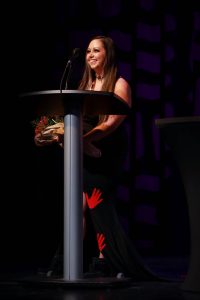 Winning the 2022 Amazing Women Award for Determination was a very humbling experience, that made me feel truly appreciated as an Indigenous woman trying to make a difference in my community. I was so honored to showcase my MMIW themed gown and enjoy a well planned and executed event with other amazing people who share my passion for creating a better Airdrie. I'd like to thank everyone for their love and support. Haawa.
GP Law Amazing Advocate: Tammy Plunkett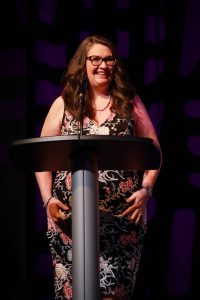 I am so grateful to Sherry and the whole airdrielife magazine team and sponsors for this community-building event celebrating Airdrie women and my Amazing Advocate Award. While I love the recognition for my hard work over the last five years, this award is especially meaningful to our 2SLGBTQ+ community here in Airdrie. Every time we share a happy story about our queer community, it helps youth feel comfortable being their authentic self. Thank you so much.
Explosive Edge Amazing Athlete: Kendall Patton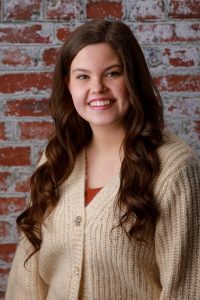 It means so much to me that I can do the sport I love and achieve so much! Thank you so much for this opportunity and none of this would have happened without my family!
McKee Homes Amazing Mentor: Stephanie de Souza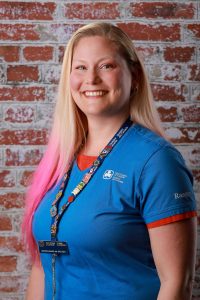 I just want to say thank you from the bottom of my heart. I am filled with gratitude and respect for everyone nominated last night and who voted. Winning Amazing Mentor was a wonderful surprise I was not expecting. I love being a Girl Guide; I am a member and leader for life. I also love being able to mentor young ladies through high school and beyond, as they are the next generation making a difference in our world. It was nice to witness so many amazing women in our community being celebrated. There are many more women to recognize and honour in Airdrie every day and in the awards next year.
Vitreous Glass Amazing Culture: Kim Cheel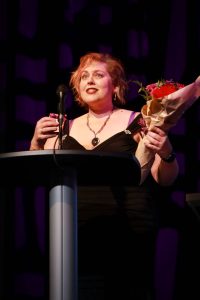 It was truly an honour to be recognized amongst all the other fantastic winners and the incredible work they do in and around Airdrie. The work they do: in advocacy, in outreach, in personal drive, and more is not only inspiring, but also what is needed to build a community full of strong leaders.
Superior Hearing Amazing Promise: Aerin Bell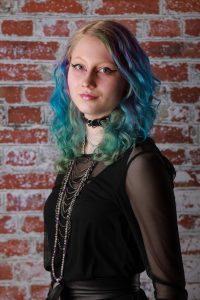 Winning the Amazing Promise award was a delightful surprise, and I'd like to say thanks to my family, friends, and the members of the Airdrie Progressive's board on Facebook for making it possible. As well as a special thanks to my teacher Mrs. Wright for nominating me in the first place.
Pharmasave on Centre Amazing Heart: Ashton Bennet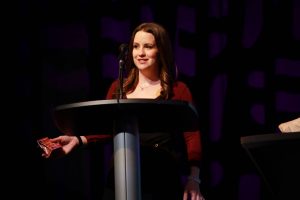 It felt AMAZING to win! I was completely blown away and I feel so grateful to be a part of such a strong group of women, to be seen and celebrated in the work we all do to make a difference. It was an inspiring and empowering night, and needed!
Pureform Amazing Courage: Amber Ward Kakakaway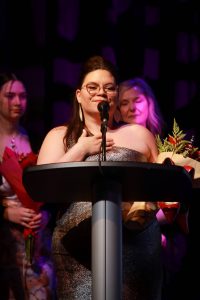 "I am so incredibly honoured to have won the Amazing Airdrie Women Courage Award. Being alongside all the other winners and nominees was truly Amazing. This win really shows the level of support the community members of Airdrie has to work towards reconciliation through truth. I'm blessed and humbled to have the opportunities present themselves and to be a part of that change this last year. I'm also really excited to continue this work in various capacities this next year."
Pink Wand Amazing Workplace: Airdrie Chamber of Commerce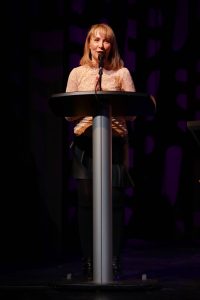 Thank you to airdrielife magazine for hosting such a special event honoring the amazing women in our community.  The Airdrie Chamber of Commerce was very proud to win the Amazing Workplace Award as we make a tremendous effort to support one another and set out to create a welcoming and inclusive environment for our staff, volunteers and members. It was fantastic to see so many women, and a few men, in person at the event to lift each other up and celebrate the caring people we have in our city. Our team is thankful for each other and our community for recognizing us for the Amazing Workplace Award.  We are very proud of the work that we do for support our business community and are humbled by the amazing people we work with every day!