In this new ongoing feature, we visit new Airdronians to see what brought them to our fair city and how they're liking things so far.
With Airdrie growing at a rate of close to 5,000 people every year, there's no shortage of new neighbours to choose from.
Amir Barakat and his wife, Oksana Altukhova, along with their twin three-year-olds, a boy and a girl, moved to Airdrie in March, with assistance from Rocky View Immigrant Services. airdrielife caught up with Barakat to get to know them a little better.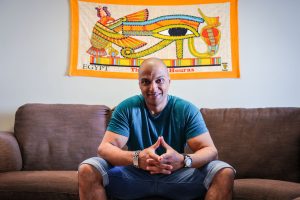 When did you move to Airdrie? I first came to Canada in October 2022, to check things out and find a good place for my family to live. We moved to Airdrie on March 1, 2023.
What community do you live in? We live in a condo in southwest Airdrie, near Creekside Village.
Why did you choose to live there? As everybody knows, housing is a big issue. I had some friends who told us some housing options were available, so we took the opportunity.
Where did you live last before coming to Airdrie? I worked in Saudia Arabia.
If you're new to Canada, what's your home country? I was born and raised in Egypt, a land known for its warmth, hospitality, culture and history. The land where the biblical miracles took place as well as where the Pharaohs ruled. The wonders still stand proud.
What is your job? I have a background as a marketing manager with 13-plus years of experience. I am now working as a landscaper, gradually building myself up.
What is the job of other adults in the household? Oksana is a full-time mom taking care of our two beautiful children.
Why did you decide to call Airdrie home? I was a marketer and did a lot of travelling and was always surrounded by crowded big and busy cities with high buildings and traffic. I chose Airdrie because it is a peaceful and comfortable city. I feel a peace of mind and am thankful for the serenity around me. All the service providers are very caring and genuinely want to do their best to help newcomers like myself. Airdrie is my home now where I want my kids to grow.
What is your favourite thing about Airdrie so far? My favourite thing about Airdrie is the people. I love the people in Airdrie. I've never met such caring and friendly people in a community. Everyone is so helpful, and it really touched my heart how much everyone respects each other. I always dreamed to live in a place where I don't feel the stress of security, safety and disrespect.