"If you're going to spend the time and money, build something awesome"
Brandon Hegedus is building the automotive equivalent of a unicorn.
Inside his two-car detached garage in Luxstone is a nearly-complete 1961 Ferrari 156 F1 "sharknose" race car replica. He uses the word replica, because it's not a kit car, nor is it quite a recreation of the legendary automobile.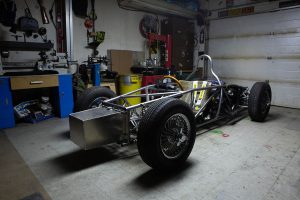 "If you're going to spend the time and money, build something awesome," says Hegedus, sitting in the cockpit of the car on a seat he molded out of Kevlar himself. "That's kind of always my thought."
This being his fifth car build, he's no novice, but the task of building the Ferrari replica is a tall one, adding new skills to the resume of the cabinet builder by day, car builder by night.
He sold one of his earlier builds in the fall of 2016, a wild 1927 Ford Model T rat rod powered by a twin turbo 5.9 litre Cummins 6BT diesel pumping out 855 horsepower and 1,504 foot pounds of torque to the rear wheels.
He then decided to build "something that doesn't exist anymore," and bought a Suzuki Hayabusa motorbike, which donated its 1,300cc motor and various other parts for Hegedus to begin building the Ferrari creation.
With the build, he started an Instagram account, @howisthatstreetlegal, to document the process.
The 1961 Ferrari 156 F1 has some history, which Hegedus starts explaining with the model number, which stands for the 1.5 litre V6 engine it was powered by.
"Enzo Ferrari hired Carlo Chiti to design the chassis," recalls Hegedus from his research. "What he came up with was an absolutely gorgeous car … as soon as the media saw it, the people fell in love with it."
Hegedus fell in love with the Hot Wheels version of the car as a teenager, and has become exponentially more passionate about it in the last three years.
"It's just a sexy little car," he says. "Everything about it, just it's so simple. It's just totally functional."
Aside from aesthetics, the lure of the car is the fact that all the Ferrari 156 cars built by the Italian manufacturer were destroyed by 1963. This was preceded by a crash on Sept. 10, 1961, that killed a 156 driver, Wolfgang von Trips, and 15 spectators.
There's little build information to use to recreate the car, and the finer details have been found from photographs and a scale ruler. Hegedus only knows of two current recreations in Europe today, and he's been in contact with one of the builders who did coachwork (built the body) on both.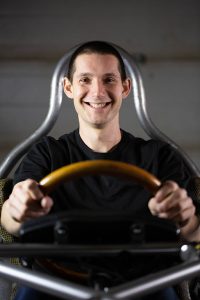 "He was gracious enough to share some information with me and answer some of my questions," says Hegedus. "And then of course I still am left to a lot of my deductive figuring and reasoning."
Having his hands create as many of the parts on the car as possible, including details like pedals and brackets, he's developed a lot of skills, both physical and mental.
"It's given me a lot more respect for the engineering," says Hegedus. "There's no flawlessly-perfect engineering behind it, or geometry behind it. You give and take and you balance…. I really like that."
His first European-inspired build has seen a different mindset than the "good enough" or "backyard mentality" of American hot rods he's built.
Hegedus held a party with about 35 people turning up for the first time he started up the engine last September, showing support for which he's grateful.
"I drove it down the alley and around the block a couple times," he says. "It was smooth and loud as it should be and it gave us beautiful driver feedback."
The body won't be finished in aluminum as the originals were, as Hegedus doesn't want to take the years to learn that skill at this point. He's likely to use carbon fibre or fibreglass depending on his budget as that stage comes closer.
A few more stages and hundreds of hours later, and this car will be on the road in 2020, fingers crossed.
"I hope to be able to inspire some young kid," says Hegedus, who is now a 34-year-old with an "amazing, patient wife and four amazing little girls."
NEW: Watch the interview