"The Airdrie Pride Society has helped me make new friends and meet new people who are like me and have the same interests as me"
---
The Airdrie Pride Society has had a monumental year.
At its inaugural event this spring, the Airdrie Pride in the Park Festival saw participation of more than 1,500 people, surprising event organizers, residents and City staff.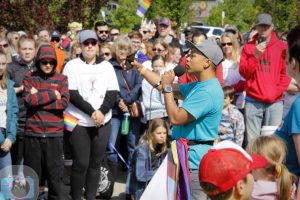 "Being a conservative small town in Alberta, we didn't know what kind of reception we would receive," says Kiersten Mohr, president of the Airdrie Pride Society. "We went in not knowing whether to expect 25 people or 2,500."
The event took place on June 22 and included a Solidarity Walk from City Hall to Nose Creek Park, along with a Pride in the Park Festival.
"It was an exceptional experience," says Mohr.
"It was a really beautiful moment to see all of the people walking together. The number of same-sex couples that came out during the festival was incredible.
"I had people tell me they had never before been authentically who they are in public in the city they have lived in for more than 15 years. They stepped out for the first time during Pride and that is enormous."
Strong society
The festival was a culmination of the work the Society has been doing in the community for years. The organization was created in 2014 and the board was expanded in 2017.
"We wanted to create a group to help and support the most vulnerable portion of our population, which is the youth," Mohr says.
"I grew up in a world where there was no support for someone who was LGBTQ2 in a small community and you needed to go to Calgary for support. This is an incredible barrier to some people. We knew Airdrie was big enough to have our own organization."
Mitchell Plunkett is a local youth who has been involved with Airdrie Pride for two years.
"The Airdrie Pride Society has helped me make new friends and meet new people who are like me and have the same interests as me," he says.
"I've always known Airdrie as a really conservative town in Alberta but it's nice to see that I'm not the only one identifying as LGBTQ."
Powerful partnerships
As a support for youth like Plunkett, the Society created a community Gay Straight Alliance (GSA) called PRYSM (Pride Youth Social Movement) in 2017. PRYSM arose out of the Airdrie youth needs assessment that identified the desire for more LGBTQ2S+ friendly spaces in the city.
PRYSM was created in conjunction with Community Links. Candice Kutyn, vice-president of Airdrie Pride and Community Links counsellor, spearheaded the partnership between the two organizations.
"When agencies come together to meet the needs of individuals in our community, we share the strengths and resources of each organization and create more doors for accessing the supports and amazing work that we are all doing," she says.
The two organizations also partner together for Parenting with Pride, a parent support group where family members of LGBTQ2S+ people can share their experiences and get advice on helping their loved ones.
"For youth to be successful, family needs to be successful," says Mohr.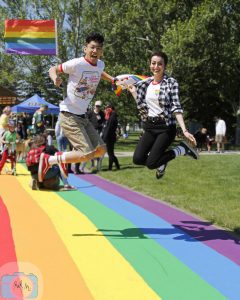 Looking forward
Mohr and the Pride board members are now working on planning next year's festival and are hopeful they will see even more support during the 2020 event.
In addition to PRYSM and Parenting with Pride, the Society offers monthly Community Coffee and Pride in the Pub events for LGBTQ2S+ adults.
"We are creating a community," says Mohr.
"It's about bringing people together to show them they are not alone. You can know that when you reach out to Pride, you are reaching out to people with lived experience who are compassionate to what you are going through. Airdrie Pride is a supportive and safe place."
For more information, visit airdriepride.ca